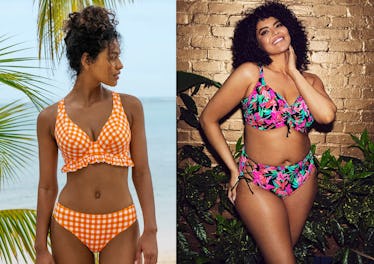 10 Clever Bra-Sized Swimsuits So You Can Finally Get A Great Fit
Supportive and cute? Count me in.
HerRoom
We may receive a portion of sales if you purchase a product through a link in this article.
Finding a comfortable swimsuit that fits well and makes you feel great can be a real challenge. Luckily, female-owned HerRoom knows the struggle and has stepped up its swimwear to include many styles with actual bra sizing for a supportive and comfortable fit in a huge range of cup and band sizes. Whether you're looking for a trendy two-piece bikini or a classic one-piece swimsuit, the brand carries tons of cuts, colors, and coverage levels.
Scroll on for 10 fantastic choices you'll want to rock all summer.
1. A Floral Bikini With A Brilliant Adjustable Neckline
This pretty floral swimsuit is the epitome of summer and it's so versatile, you'll never be bored. The top features an adjustable neckline that can be pulled tight for a sweetheart look or left untied for more coverage, and the stretchy elastic straps are adjustable to ensure they don't slide off as you swim. Plus, it has underwire cups with a mesh lining, and an elastic band for added support. There are a couple of coordinating bottoms to choose from including an adjustable brief with side ties or a mid-rise pick. And if you are totally swooning over this print, it also comes in a one-piece.
Available Sizes: 34G — 42H | Available Colors: 1
2. A Chic 1-Piece With Adjustable Coverage
This one-piece swimsuit showcases a statement-making abstract brushstroke print with a twisted-front bodice. Looks aside, you'll love how this swimsuit functions. It has a shelf bra with mesh-lined underwire cups and an elastic band, plus adjustable side ties to tweak the height of the legs as desired. The swimsuit offers moderate cheeky coverage in the back and is fully lined. This gorgeous pattern also comes in a tankini.
Available Sizes: 32D — 42FF | Available Colors: 1
3. A Sweet Checkered Bikini That Can Be Styled In 2 Ways
With its checkered print and ruffled edges, this bikini swimsuit is flirty, frilly, and flouncy. The swim top boasts underwire cups with a combination of mesh and knit lining, as well as an elasticized band, making it comfortable and supportive. The stretchy straps are adjustable and on the thicker side for a secure fit. They can even be hooked together to form a sportier racerback if you wish. Choose from various matching bottoms, including a brief style, a high-waisted option (only available in black checkered), or a ruffled pick for a little extra fun.
Available Sizes: 28D — 38F | Available Colors: 3
4. An Adjustable Tankini With A Built-In Bra
This tankini swimsuit is vacation-ready with a floral print and gold-tone bead accents. It boasts a structured balconette bra with underwire cups, a mesh lining, and a stretchy band to help you feel secure (no accidental spillage here), even when participating in high-energy activities like volleyball on the beach. Plus, the adjustable ties on the side allow you to control the length of the top. Pair this top with the coordinating classic swim bottom to round out the look.
Available Sizes: 30E — 38HH | Available Colors: 1
5. A Longline Swim Top That Goes With Lots Of Different Bottoms
This longline swim top has plenty of swim bottom options so you can customize the swim look to your exact preferences (including a skirt option for more coverage or a cheeky itsy bitsy bottom). The top is a best-seller on the HerRoom site for a reason; it features light padding with underwire support. The longer body has elastic at the bottom and flexible boning on the sides to keep it from riding up, even when wet and slick with sunscreen. The wide-set straps are fully adjustable in the front (making it so much easier to adjust) thanks to the gold-tone metal hardware.
Available Sizes: 34C — 44DD | Available Colors: 4
6. A Sleek Swim Top With A Unique Draped Front
This draped cowl-neck swimsuit looks like a stylish shirt you could wear out for drinks. The swim top features hidden mesh-lined underwire cups, and the elastic straps (which are adjustable in length) can be converted into either a classic on-shoulder style or a crossed-in-the-back option. As for the bottoms, there are various coordinating choices like an adjustable-side swim bottom or a fold-over brief with a golden chain print.
Available Sizes: 32D — 38FF | Available Colors: 1
7. A Padded Swim Top You Can Rock With Or Without Straps (& Comes In Tons Of Sizes)
If you like a push-up style bra, this swim top is padded along the sides, undersides, and even in the center with underwire contoured cups that'll give you plenty of lift. Another major perk? The size range is practically unheard of in the swimsuit world, and the elastic straps are convertible. Wear the swim top with them for added support or without them to avoid tan lines. This pick features gold-tone decorative ties and it comes in a statement-making bright red and classic solid black. Choose from either a high-waisted brief or a pick with a ruched skirt for the bottom.
Available Sizes: 32C — 38F | Available Colors: 2
8. A Supportive 1-Piece With Retro Vibes
This one-piece swimsuit features an all-over polka dot print for major retro vibes. But this swimsuit has plenty of modern-day features including a shelf bra (with underwire cups and an ultra-breathable kit lining), elasticized leg bands to keep the swimsuit in place, and a full mesh lining in the front for extra support. It has moderate coverage in the back. Fans of this polka-dot delight will be happy to know it also comes in a tankini or bikini-style option.
Available Sizes: 30D — 40G | Available Colors: 2 (including a solid black option)
9. A Leopard 2-Piece With Mesh Panels That Can Be Worn Several Ways
This swimsuit top features a feisty, fun print paired with long black mesh panels that are attached to the bottom of the padded underwire cups. The mesh can be tied into six unique configurations — take a peek at the image in the listing to see them all. Flexible boning on the sides ensures the top conforms to your body, as does the stretchy band. Grab the matching brief-style swim bottom to finish off this style.
Available Sizes: 30D — 40J | Available Colors: 1
10. A High-Neck Swim Top That Comes In 2 Colors
This swim top is the definition of function meets fashion — the high neckline looks stunning, yet the mesh-lined underwire cups offer support and the side seams have flexible boning that aids in this as well. Wear the straps on your shoulders or convert them into a crossed position. Choose from either a vacay-ready bright blue color or a neutral black option that'll never go out of style. Pair it with various bottom choices including a high-waisted pick for more coverage.
Available Sizes: 32DD — 38G | Available Colors: 2 (including a solid black option)
This article was originally published on