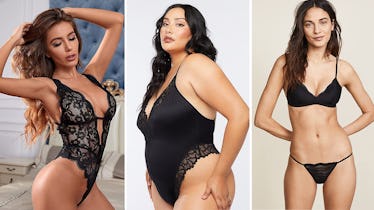 The Absolute Best Black Lingerie On Amazon
Classically sexy pieces at unreal prices.
Amazon
We may receive a portion of sales if you purchase a product through a link in this article.
Timeless black lingerie is an essential component of any wardrobe, and whether you're in the market for a daring lingerie set or a multipack of minimal thongs, you likely already know just how many options are available on Amazon — how to choose? Don't fret; below, you'll find some of the very best black lingerie that Amazon has to offer, from both under-the-radar brands and iconic labels like Cosabella, Savage X Fenty, and hanky panky.
Whether your lingerie vibe is sexy siren or quietly luxurious, you'll find a piece here to match it. To help you find exactly what you're looking for, know that the curation below is organized into three categories: lingerie sets, bras, and underwear. Those seeking boudoir vibes will find stunning black bodysuits, strappy lingerie sets, and barely-there G-strings. Need a black bra? This list includes options ranging from lace bralettes to oomph-giving push-up bras and versatile, convertible bras with optional straps that can be styled multiple ways. And if you're looking to restock your basics, this list has a variety of essentials, like a multipack of sexy-yet-comfortable seamless thongs and minimalist-chic cotton bikini panties from Calvin Klein (because no list of lingerie would be complete without them). Amazon is known for their amazing prices, and their lingerie selection is no different — you'll find several pieces that ring up at under $20 here, though you'd never know it based off the aesthetics and quality.
Give your lingerie wardrobe some love and scroll on to shop the 21 best black lingerie on Amazon.
The Best Black Bodysuits & Lingerie Sets
This Best-Selling Black Lace Bodysuit With A Deep V-Neckline
This black lace bodysuit has earned best-seller status on Amazon, thanks to daring details like peekaboo lace, a scalloped trim, and a plunging neckline. A cheeky bottom, adjustable criss-cross straps, and a snap crotch to add to the versatility and comfort of this stunner. Wear it as lingerie for an evening in, or wear it as a top with denim and heels (the cups are unlined, so if you're wearing it as a top, you may want to add pasties, or a bra for additional coverage).
Positive review: "Let me just say this is the best. SO SOFT. SO HOT. SO COMFY. SO SO WORTH IT. The adjustable straps make all the different. It fits so so perfect."
Sizes: Small — 4X-Large | Colors: 38 | Material: Not Listed
A Shaping Bodysuit You Can Wear As A Top
This best-selling bodysuit is made with 23% spandex that offers medium compression to create a smooth silhouette underneath tops and dresses. But the minimal design — including adjustable spaghetti straps and a subtle V-neckline — would look just as chic worn as a top, and can handle being dressed down with denim, or dressed up with a blazer and heels. It features a thong bottom, although a more-covered brief bottom is also available, as well as a longer bike-short style.
Positive review: "Just got this item and tried it out for the first time, and i ABSOLUTELY LOVE IT. It [...] just shapes your body [...] You could even wear this as a regular body suit with jeans. The material is so soft and comfy ! I usually hâte body suits and i was very sketch about it but this makes it super easy and comfy would recommend 1000%"
Sizes: XXS/XS — 4XL/5XL | Colors: 8 | Material: 77% Nylon, 23% Spandex
This Strappy Lace Bodysuit
If the devil is in the details, this bodysuit is definitely devilish, with its lace cutouts and adjustable, cleavage-highlighting straps. The front features lightly lined, unwired cups, while the sheer mesh back offers subtle contrast; the snap crotch makes for easy restroom trips. Unforgettable, from any angle.
Positive review: "This is, quite possibly, my favorite piece of lingerie I've ever owned. The straps are super sexy, there was a little support in the tummy so I felt held in place the whole time, the stretch over the bust was just enough, but still provided support without any underwire. The snaps were very convenient too."
Sizes: Small — 4X-Large | Colors: 14 | Material: 65% Cotton, 35% Polyester
This Pretty Floral Lace Lingerie Set
Every lingerie collection deserves a pretty, one-and-done set, and this two-piece bra and panty set has so much to recommend it. Made of the prettiest (and spiciest) floral lace, it comes with a pair of high-waisted, cheeky bottoms with sweet scalloped legs, plus a longline pullover bralette with lined cups and decorative criss-cross straps across the neckline. The unwired top is comfy enough to lounge in, but paired with a blazer and some high-waisted denim it could easily go out for cocktails.
Positive review: "The softest material! I love this set. It is very soft and almost silky feeling [...] The bottom part of the top rides up, but that's my only issue and it's not a big one. This set makes me feel great. Just get it! You won't regret it!"
Sizes: Large — 4X-Large | Colors: 10 | Material: Not Listed
This High-Cut Lace Bodysuit With A Plunging Neckline
Making a statement is easy with this bodysuit; it features a plunging neckline and a strappy back. The high-cut legs have the most gorgeous scalloped trim, and the details continue with a thong back accentuated by a lace-up design and double adjustable spaghetti straps. A snap crotch allows for easy restroom trips. Whether you're wearing it as a daring top or for yourself at home, this bodysuit requires no embellishment.
Positive review: "Perfect sizing! Soft and sexy! Snaps in the crotch for easy access. Five star! Straps are also adjustable!"
Sizes: Small — 4X-Large | Colors: 9 | Material: 65% Cotton, 35% Polyester
A Lace-Trimmed Bodysuit With Great Stretch
You can count on Savage X Fenty for gorgeous lingerie that's also super wearable, and this bodysuit is no exception. The sheer lace trim along the plunging neckline and high-cut legs are daring details that make it an unquestionably stunning piece of lingerie, while the stretchy opaque nylon bodice is comfy, and wear-out-of-the-house appropriate. The thong back will lie seamlessly under clothing, and criss-cross back straps are adjustable, with rose gold hardware. An immediate yes.
Sizes: X-Small — 3X Plus | Colors: 3 | Material: 85.6% Nylon, 14.4% Spandex
This Classic Black Satin Chemise With Lace Trim
How classic is this chemise nightie? The shimmery black satin and lace trim are chic, sophisticated details sure to make this a regular in your lingerie rotation. It features adjustable racerback spaghetti straps and a mid-thigh length hemline, while a peekaboo lace cutout up the sides is a daring surprise.
Positive review: "Love wearing these to bed. Soft, comfy, and sexy. Just long enough to cover where it counts. Great product!"
Sizes: X-Large — 4X-Large | Colors: 25 | Material: Not Listed
This Sweet Yet Sexy Lace Lingerie Set With A Garter Belt
Whether you're planning a boudoir photo shoot or looking to add a dash of daring to your everyday, this best-selling black lace lingerie set wears its heart on its sleeve — it comes with a garter belt accented by the cutest heart-shaped cutouts. The stretchy wireless lace bra top features a hook-and-eye closure and decorative straps, while the low-rise thong bottom features cutout straps and an adorable bow. Sweet, meet sexy.
Positive review: "Very well fitting, and very sexy! [...] It is elastic so it stretches to fit your curves perfectly, but isn't so tight that it leads to discomfort. Very happy with this set."
Sizes: Small — XX-Large | Colors: 20 | Material: 85% Nylon, 15% Spandex
The Best Black Bras
A Lace Bralette With A Hint Of Support
Think of this popular wireless bra as a hybrid between a bralette and a traditional bra. The wireless construction and stretchy lace bralette feel soft and light against your skin, but features like lined and contoured cups, a hook-and-eye closure, and adjustable straps deliver support. The straps can also be converted into a criss-cross back to accommodate all kinds of tops. The allover lace creates some additional coverage across the neckline and ribcage — and it'd look so pretty peeking out of a button-down shirt, if that's your style.
Positive review: "Love this bra! Pretty and comfortable and looks great especially if it peeks out of your top. Lightly padded. Love the convertible straps! Im so pleased that I just ordered a bunch of other colors. Price is so right"
Sizes: Small — 3X-Large | Colors: 7 | Material: 88% Nylon, 12% Spandex
A Push-Up Bra Overlaid In Pretty Lace
If you're on the hunt for a bra to add a little extra oomph, consider this push-up bra, which features an underwire, contoured foam cups, and push-up padding that can add up to a full cup size. Lace overlay and trim are delicate finishing details, while a hook-and-eye closure, adjustable straps, and a soft and secure lace side band ensure this bra will be as comfy as it is daring.
Positive review: "I LOVE this bra. It's true to size, gorgeous, pushes them up without loads of padding. Will be ordering more!!"
Sizes: 32B — 38DDD | Colors: 17 | Material: 77% Nylon, 23% Elastane
This Supportive Underwire Bra With A Stunning Mesh Trim
You shouldn't have to choose between support and style, and reviewers rave about the way this underwire bra blends both. It features wide, adjustable straps, hook-and-eye closures, and a U-shaped back with wide side panels for plenty of lift and support, and the J-hook design allows you to convert it to a racerback for even more flexibility. The three-sectioned cups also help push breasts forward and up. And while these details ensure it's comfortable and supportive, mesh cutouts at the cups and contrasting, dotted trim root this bra firmly in the tradition of lingerie. Keep in mind that this bra is listed in UK sizes, so be sure to consult the size chart to ensure you're getting the right fit.
Positive review: "I absolutely LOVE this bra! [...] I was fitted for this bra at an upscale lingerie boutique - and therefore paid boutique prices. IT WAS WORTH IT!! I have since gotten rid of most of my other bra styles as this one works about 90% of the time! Needless to say, I was wearing my bra out. I was thrilled to see this bra on Amazon for a much more reasonable price! One of the very best things is being able to pull into racer back. As a woman with large 'girls', wearing blouses that show straps is a drag - this bra solves that problem!"
Sizes: 32GG — 46DD | Colors: 15 | Material: 57% Polyamide Nylon, 24% Polyester, 19% Elastane
A Convertible Strapless Bra That's Ready For Anything
Whether you're wearing it under a T-shirt or gown, this bra is ready for anything. Wear the strapless design with all your sleeveless dresses and tops, or use the optional straps; they can be worn traditionally, halter-style, criss-cross, or one-shoulder. The soft underwire design and lightly padded cups gently lift, while a silicone strip along the band and cups (plus a few rows of hook-and-eye closures) ensure a secure fit. You're bound to have more than one reason to wear this versatile bra.
Positive review: "I was skeptical that any strapless number would provide support and stay where it was supposed to. I was incredibly surprised that this bra did both. It's well-made and provides adequate support, even when I'm bending/moving around/living life. I don't have to worry that bending the wrong way is going to result in an embarrassing wardrobe malfunction. I also appreciate that it does come with detachable straps, so it has an element of versatility I wasn't expecting. Overall, great bra."
Sizes: 32B — 46DD | Colors: 28 | Material: 93% Polyamide, 7% Spandex
This Lace Bralette Shoppers Can't Get Enough Of
Over 13,000 Amazon shoppers have given this super-popular wireless black lace bralette a five-star rating. Made of stretchy lace with scalloped edges, it features a pullover design with a V-neckline and matching V-back; the cups are lightly lined, with removable padding. It's cute enough to wear as a top, and comfy enough to lounge in daily.
Positive review: "This purchase was to wear around the house and be more comfortable than in a traditional bra. I ordered several because of the comfort level. [...] It provides good support for my DD size. I'm super impressed with how beautiful it looks on coupled with its comfort and style. [...] I have washed it many times, and it does not pill or fade and thus far has not lost any elasticity."
Sizes: Small — XX-Large | Colors: 18 | Material: 94% Nylon, 6% Spandex
This Savage X Fenty Balconette Bra In Gorgeous Lace
Treat yourself to this Savage X Fenty bra. The gorgeous, stretchy black lace conforms to your shape, and it'll feel special even if you're wearing it under the most basic of T-shirts. The lightly lined underwire design lifts and shapes, complemented by glam rose gold hardware. Adjustable straps and hook-and-eye closure create a nice, snug fit.
Positive review: "This Bra is made very well, and durable with beautiful materials. The straps are a soft satin, the grommets and pulls are gold. Nothing scratched or tugged weird. Smooth and comfortable. Sizing is spot on. [...] better than expected."
Sizes: 32A — 46DD | Colors: 8 | Material: 86% Nylon, 14% Elastane
This Iconic, Rhinestone-Studded Victoria's Secret Push-Up Bra With Mega Lift
The Victoria's Secret Very Sexy Push-Up Bra is nothing short of iconic, and this version features logo-emblazoned, adjustable and convertible rhinestone straps that add some pizzazz peeping out from tees and tanks. The padded cups can add up to two cup sizes, and the cups are made from a smooth satin that will lay smoothly underneath clothing. This bra is a must-have for any push-up bra aficionados.
Positive review: "This bra is gorgeous. [...] It fits well and gives me that extra lift. The bra itself feels very well made. The sparkly straps are a cute touch [...] Overall, a gorgeous, beautiful bra."
Sizes: 32B — 38DD | Colors: 5 | Material: 65% Polyamide, 35% Elastane
The Best Black Underwear
These Cheeky Undies With A Lace-Up Back
Up your undie game with these saucy, floral lace panties. They feature a V-back with corset-inspired criss-cross straps, and they're made with elastane, which ensures a soft, stretchy fit that will keep its shape. The mid-rise front is accentuated by a cute, contrasting pink bow, while the scalloped edges of the high-cut legs continue the eye-catching theme. If your lingerie wardrobe has been needing some personality, these undies are anything but basic.
Positive review: "I love this underwear. The majority of sexy underwear is too short in the front for me [...] These... are... PERFECT. The perfect amount of coverage in the front and sexy in the back. I'll be buying more in different colors soon."
Sizes: Small — X-Large | Colors: 41 | Material: 86% Polyamide, 14% Elastane
A Pair Of Minimalist-Chic Calvin Klein Bikini Briefs
If your lingerie style leans more casual, opt for these Calvin Klein bikini briefs, forever a minimalist-chic icon. Made of a soft, smooth cotton blend, they feature a full-coverage bottom and gusset with a wide, logo-emblazoned low-rise waistband that would look so cute peeping out of some on-trend low-rise pants. Complete the look with the brand's equally beloved racerback bralette.
Postive review: "My favorite underwear. Very comfortable. Hold up well and don't stretch out!"
Sizes: X-Small — 3X | Colors: 26 | Material: 53% Cotton, 35% Modal, 12% Elastane
This 3-Pack Of Cult-Favorite Black Lace Thongs
No wonder hanky panky thongs have developed such a cult following; shoppers love the comfy stretch lace, hip-length rise, the breathable 100% Supima cotton gusset, and how they lay seamlessly under clothing. Pick up this three-pack if you're like myriad shoppers who wear hanky panky's exclusively; it's worth the investment, especially because the high-quality construction lasts for years with proper care.
Positive review: "My favorite panty. Worth the money. Comfortable, lasting and perfect fit."
Sizes: One Size | Colors: 10 | Material: 100% Nylon
A 6-Pack Of Seamless, High-Waisted Thongs
Not only are these popular high-waisted thongs lightweight and moisture-wicking, they also have a supportive compression waistband shoppers rave about. Other features include a comfortable wider gusset, a breathable cotton lining, and a seamless construction that disappears underneath your clothes. Even better? A pack of six will only set you back about $25. Restocking your underwear drawer has never been easier.
Positive review: "I absolutely love these things! Exactly what I've been looking for. Comfort, design, and price. I bought these packs twice now. They're the only undies I wear now. They look so good on that I even used them for spicy pics. The way other underwear (thong or not) is cut they always seem to dig into my hips which is why I wanted to get these since they were high hip and laid over my belly not under it. [...] Get them!!! Get them now!!!!"
Sizes: X-Small — 4X-Large | Colors: 10 | Material: 92% Nylon, 8% Spandex
This Delicate Black Lace G-String From Cosabella
This delicate black G-string from Cosabella — another cult-favorite lingerie brand — is made from barely-there cotton-blend lace, and features a lined gusset and a subtly scalloped edge; reviewers rave about how comfortable it is while looking majorly spicy. And at under $20, it's a surprisingly affordable way to add a little luxury to your lingerie collection.
Positive review: "Perfect underwear for when you barely want to wear any. Very sexy and comfy. Thank you!"
Sizes: One Size | Colors: 5 | Material: 55% Cotton, 36% Polyamide, 9% Elastane
These Cheeky Lace Boy Shorts
These lace boy shorts provide full-coverage comfort across the hips and tops of the thighs, but a higher cut in back reveals some cheek — and that soft, stretchy nylon lace is semi-sheer for extra spice (but the gusset is opaque cotton, for functionality's sake). They're so pretty, you'll want to wear them solo with a hoodie while you're lounging at home, but the lace will also lay flat beneath your pants if you need to step out for errands.
Positive review: "This underwear is higher quality than the price would suggest. Maidenform got it right with the amount of stretch and high quality, thick, non-scratchy lace. I also appreciate the large cotton lining in the crotch area [...] This washed well and survived the dryer too. I ordered this in two other colors!"
Sizes: Small — XX-Large; 5 — 9 | Colors: 22 | Material: 100% Nylon