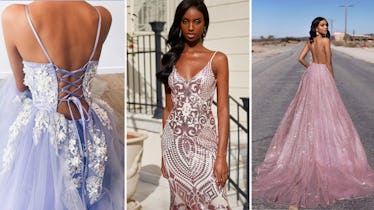 This Celebrity-Loved Brand Will Help You Create Your Own, Custom-Made Dress For Prom — Here's How
From minimalist to show-stopping, there's a gown for every prom personality.
Alamour The Label
We may receive a portion of sales if you purchase a product through a link in this article.
Everyone deserves to look and feel their best on prom day, so settling for a prom dress that's less than perfect isn't going to cut it. Luckily, Alamour The Label, an Australian event wear brand seen on celebrities like Serena Williams and Addison Rae, has the solution: Made-to-order prom dresses. Alamour's customization service ensures that you'll have a one-of-a-kind gown that showcases your own personal style and fits like it was made just for you — because it actually was.
A team of experts offers a personalized experience to help you design the prom dress of your dreams, and each custom piece is then designed and carefully crafted in-house at their Brisbane studio. Not only does Alamour's made-to-order model give everyone the opportunity to create their perfect prom dress, but it also supports their sustainability efforts by reducing excess materials, since dresses are only made when a request comes in as opposed to being mass-produced. And even if your prom days are behind you, these gorgeous gowns are perfect for all kinds of special events, like cocktail or black-tie weddings (either a friend's or your own!).
How To Create A Custom Dress With Alamour
Alamour's made-to-order model not only ensures that you'll find a dress that suits your body type and that expresses your own personal style, it also ensures that you won't be twinning with anybody else at the prom.
To start, you'll peruse Alamour's made-to-order collection, which offers myriad base designs that can be further customized. Let's say you pick out the Luan — an embellished emerald gown with a plunging neckline and open back — but green isn't your color and you prefer a more modest design. That's where Alamour's team of online sales associates come in. Once you've chosen your dress, you can get in touch with their sales team via email, who will then guide you through the customization process, acting as your own personal stylist.
Customizations include altering necklines and back, swapping the color, and adding length to the train. And apart from the design, Alamour also makes sure that the dress they've created for you fits you like a glove, since they offer a wide size range (XXS to 9XL, which translates to 0 to 26) and often use extra-stretchy materials that hug your body.
Because made-to-order gowns are produced only after they're ordered, rather than being held in stock, you'll want to be sure to place your order in advance so it arrives in time for the prom. Alamour suggests doing so at least three months in advance, since their busy season — March to June — is prime prom season. If you don't have time to spare, you can always opt for something from Alamour's equally gorgeous ready-to-wear collections, which'll arrive in as little as five to seven business days (they ship globally).
Discover The Made-To-Order Collection
From slinky, sequined styles to sweet satin with feather accents, Alamour is a one-stop shop for creating a one-of-a-kind gown. Below, you can shop a handful of base styles from their made-to-order collection, which you can choose to further customize to suit your preferences to a T.
Sultry and sparkly, this emerald gown, made from a patterned sequin fabric, will make you feel like you just came straight from red carpet event. Featuring a fitted silhouette, this dress has a plunging neckline and matching low-cut back.
You're sure to be the shining star of the prom in this color-shifting iridescent gown. Shimmery and stretchy, this icy blue-gray dress has a deep V-neckline with thin black straps and a regal train for some drama.
Made from a matte satin material, this vibrant violet gown with a square neckline is a modern twist on old Hollywood glam. Featuring a body-skimming silhouette, this dress has a structured bodice with boning and lightly padded cups, while a thigh-high slit finishes off the look.
Shown here in snowy white, this Catriane Gown is equal parts elegant and sexy, thanks to a plunging neckline, an open back with a tie closure, and strategic cutouts at the waist. The matte, non-stretch satin skirt drapes gorgeously over your curves, leaving behind a subtle flowing train.
Proof that the simplest silhouettes can make the most impact, the Debora Gown, crafted of a matte satin fabric, features a structured bodice with boning and a deep sweetheart neckline reinforced with padding along the bust. The bright red color would make Jessica Rabbit proud, but you can choose another color, if you prefer to customize the look further.
This article was originally published on