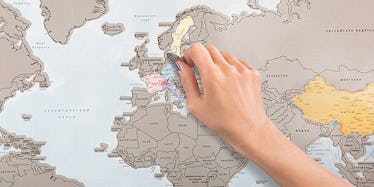 This World Map Lets You Scratch Off All Of The Places You've Been (Photos)
How do you keep track of the different places you've traveled to?
While some of us use souvenirs and postcards to revisit our moments of wanderlust, there are other awesome ways to keep track of your journeys. That's where this new scratch-off world map comes in handy!
It's called the I Was Here Scratch-Off World Map 2.0, and it was designed by Art. Lebedev Studio. This large scratch-off map is a perfect way to keep track of all of the places you've been, and it's even better if you're a fan of scratch-off lottery tickets.
In a sense, it's just one big scratch-0ff ticket... minus the potential prizes!
Interested? You can grab one on Amazon.com for under $25.
Check out the photos below for a closer look at how it works.
It's a great way to keep track of the places you've visited, and it's a lot like a scratch-off lottery ticket.
If you've been wondering what to do with that giant blank space on your wall, this could be pretty useful!
Once you've traveled the world, you'll have a completely colorful map.
Citations: A Scratch Off World Map That Lets You Track Countries Youve Visited (Bored Panda)