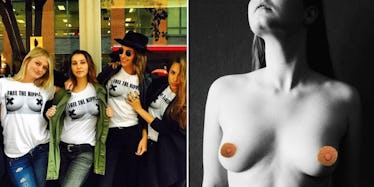 Women Are Battling Censorship By Photoshopping Male Nipples On Themselves
Instagram
Lately, there's a lot of controversy over gender equality, especially on social media.
Many women are sick of men being able to post topless pictures on Instagram while their breast-baring photos are deemed inappropriate and get deleted.
But now, ladies are fighting back by covering up their nipples with "acceptable" male nipples.
An artist named Micol Hebron thought of this clever idea and posted a picture of a male nipple on Facebook to protest the anti-female nudity policies on various social media platforms.
Since then, the Internet has been going nuts over her nipple photo, and now, all sorts of ladies are actually Photoshopping Hebron's male nipple over their lady parts with #MaleNipple.
Take a look at the pictures below to see this new social media trend.
A lot of women are sick of their body parts being oversexualized, so they're taking stands against gender inequality.
To make bold statements, women are posting pictures on social media that cover up their "inappropriate" female nipples...
...with stickers of "acceptable" male nipples.
Micol Hebron is the mastermind behind this new feminist movement.
Hebron was extremely frustrated with the hyper-sexualized views of women and the anti-female policies regarding topless pictures on social media.
Posted by Micol Hebron on Friday, July 3, 2015
So, she uploaded a photo of a male nipple to Facebook to prove male and female nipples look exactly the same and, therefore, deserve equal treatment.
Dear Instagram, Here, I fixed it: Posted by Micol Hebron on Monday, August 4, 2014
Since then, lots of ladies followed suit and posted pictures showing their own breasts covered by Hebron's nipple picture.
There are several others campaigning for the equal treatment of nipples, including the Ukranian feminist group FEMEN...
...and the geniuses responsible for the Free the Nipple movement.
There are also celebrities who bare it all to show their support for women's equality. Miley Cyrus...
Scout Willis...
...and Chelsea Handler have all joined the movement.
You go, girls!
Citations: Women Are Photoshopping Themselves With Male Nipples To Fight Boob Censorship (BuzzFeed)