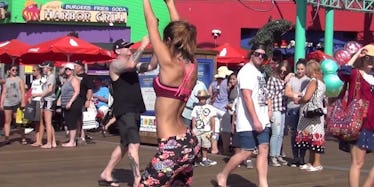 Woman Twerks In Public Places And People Just Don't Know How To React (Video)
Nobody goes in quite like Lexy Panterra, a twerking icon at this point in her young career.
She already proved she doesn't care where she twerks or whom she twerks for.
But now, Panterra teamed up with Whatever to prank people by twerking out in public (naturally), and the results are all positive. Not only is she leaving dudes speechless, but she's flexing on any other female who thinks she is about that life.
The sick looks on the bystanders' faces might be of straight jealousy, but you already know, deep down, these people have nothing but respect.