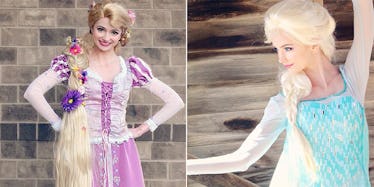 This Woman Spends An Insane Amount Of Money To Dress Like Disney Princesses
As a kid, I was pretty obsessed with Disney movies.  So, it should come as no surprise I spent most of my childhood parading around the house in a variety of "Cinderella" and "Sleeping Beauty" costumes.
Unfortunately, my parents forced me to trade in my whimsical wardrobe once I started elementary school.
However, Sarah Ingle, a 25-year-old from Denver, Colorado,  hasn't let adulthood deter her from living out her fairytale fashion dreams.
That's right. Ingle still dresses up like Disney princesses on the reg, and so far, she actually spent over $14,000 on all sorts of one-of-a-kind princess costumes.
Yes, you read that correctly -- $14,000! Apparently, Ingle has many different ensembles and wigs allowing her to achieve the perfect princess appearances for the Disney characters.
Ingle's magical transformations take about three hours, and thanks to her wide eyes and intricate costumes, it's not hard to see this gal makes one seriously convincing Disney character.
Take a look at the pictures below to see this real-life Disney princess.
Meet 25-year-old Sarah Ingle.
Another new princess joined us this week. Let's welcome The First Princess! Posted by Princess Ever After on Friday, March 27, 2015
This gal loves to dress up like Disney princesses and actually spent over $14,000 on all sorts of custom princess costumes.
It's snowing and we know who's to blame... Posted by Princess Ever After on Wednesday, January 21, 2015
In total, Ingle has 17 different ensembles and 16 different wigs in her collection of Disney costumes...
Look who climbed down from her tower to join us! Rapunzel is now available. Posted by Princess Ever After on Wednesday, March 25, 2015
...and this Disney diva mastered the art of transforming herself into a bunch of fairytale females, ranging from Belle, Cinderella, Snow White and Ariel to Aurora, Rapunzel, Merida, Elsa and Anna.
Who's to blame for this mid-April snow? We know... Posted by Princess Ever After on Thursday, April 16, 2015
When it comes to her princess costumes, Ingle is passionate about dressing to impress. She reportedly said, "Each dress can take up to six months to make and I source many different materials from all over the world, including silk and organza before drawing my final designs."
Happy Mermaid Monday from the Little Mermaid! Posted by Princess Ever After on Monday, November 9, 2015
Ingle became so good at her princess performances she even started a business, Princess Ever After, with her boyfriend.
From all of us to you... Here's a little something to cheer you up this Monday morning! Posted by Princess Ever After on Monday, July 27, 2015
The business lets people hire princess impersonators for special occasions.
"You were both absolutely wonderful at my granddaughters big sister coronation. She will cherish the time with you for a... Posted by Princess Ever After on Tuesday, July 21, 2015
Ingle also uses her princess costumes for good causes. She visits children at hospitals and does volunteer work -- all while dressed as a Disney character, of course!
We couldn't have asked for a more magical Christmas Day. Princess magic isn't just for children. We can't wait to go... Posted by Princess Ever After on Monday, December 28, 2015
Ingle reportedly said, "I'll never forget the day that I was asked to perform for a little girl who was celebrating the beginning of a break from her cancer treatments."
"We do not remember days, we remember moments." - Cesare Pavese #MagicMoments Posted by Princess Ever After on Tuesday, May 12, 2015
She reportedly continued, "Seeing her face light up as she sang along with me was just incredible and it was just the most amazing day."
Let's make some magic! Posted by Princess Ever After on Tuesday, January 13, 2015
It goes to show, with magical makeup and the right outfit, you can make all of your wildest wishes come true.
"Our truest life is when we are in dreams awake." - Henry David ThoreauMay all your 2015 dreams come true! Posted by Princess Ever After on Friday, January 2, 2015
Citations: This 25-Year-Old Woman Paid $14,000 to Look Like Disney Princesses (Cosmopolitan)