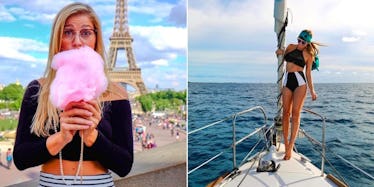 This Woman Gets Paid To Go On Amazing Adventures All Around The World
It seems like every day we hear about people quitting their jobs to travel the world.
But unlike most people, Kiersten Rich figured out the secret to becoming a professional globe trotter and actually getting paid to see the world!
Back in 2011, this California gal decided the whole corporate grind just wasn't her thing.
So, she ditched her day job, packed her bags, hopped on a plane and never looked back.
Now, she spends her days exploring foreign lands and documenting all of her incredible experiences on her travel blog, The Blonde Abroad, and her seriously impressive Instagram account.
However, running a successful travel blog isn't as easy as her romantic Instagram pictures would have you think.
Rich told Daily Mail,
If you want to start a blog to support your travels, you will most likely fail. Begin with pure intentions, hard work and perseverance. So long as, in the end, you continue to love what you do you have succeeded.
So far, Rich managed to cross 50 countries off her travel bucket list, and she has no plans of slowing down anytime soon.
Take a look at the pictures below to see this adventurous entrepreneur.
Meet 27-year-old Kiersten Rich.
Back in 2011, this free-spirited California gal decided she wasn't suited for the normal 9-to-5 grind.https://instagram.com/p/BAs-6J5I5H0/
So, she decided to follow her heart...
...and left her corporate job to travel all over the world!
But wait, it gets better.
Thanks to her awesome travel blog and Instagram account...
Rich became quite an Internet sensation...
...and now, she actually gets paid to go on epic journeys all over globe.
Yeah, I know. She's living the dream.
It's not hard to see why people love keeping up with Rich's grand lifestyle.
She always finds a way to merge the best of food, travel and fashion into one seriously breathtaking collection of photos.
Rich told Daily Mail, "Some of my favorite countries are Iceland and Bolivia, for their natural beauty, Jordan, for opening my eyes to the wonders of the Middle East, and Croatia for everything from food to sailing to beaches."
When this blonde babe isn't soaking up the sun on secluded beaches...
Or checking out the foreign food scene...
You can normally find her exploring ancient cities...
Getting in touch with Mother Nature...
Making a few friends from under the sea...
...or heading to the airport with her passport in hand -- while showing off her impeccable mani, of course!
Citations: Meet the blonde financier who ditched her high-flying job, and is now an internet sensation who is PAID to travel (Daily Mail)