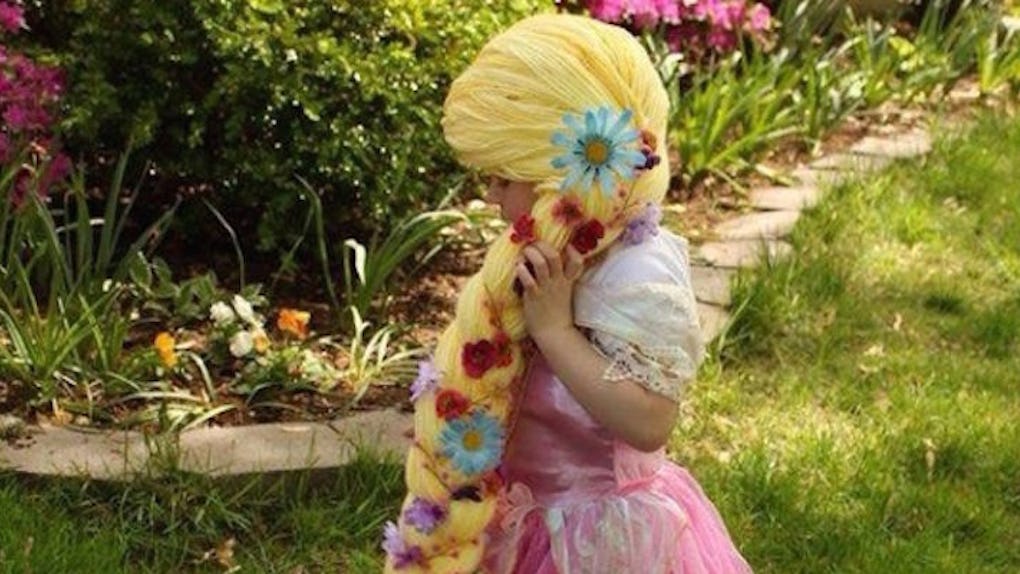 Go Fund Me
This Woman Makes Amazing Disney Princess Wigs For Kids With Cancer (Photos)
Losing your hair during chemotherapy can be an extremely difficult thing to deal with.
Often, this experience is even more traumatic for kids.
Recently, Holly Christensen, a former oncology nurse and awesome mom of three, set out to help children get through this tough time by making all sorts of amazing Disney-inspired wigs.
Christensen first came up with this magical idea after her friend's daughter, Lily, was diagnosed with lymphoma.
She used yarn to construct a Rapunzel wig for the little girl with the hope that it would cheer the child up while also protecting her bare head.
Lily's reaction to the wig had such an impact on Christensen, it inspired her to help other children suffering from this terrible disease.
Christensen told Mashable,
It lit a little fire inside me and I thought that perhaps I could start making these princess wigs and sending them to cancer centers around the country.
So, she teamed up with Bree Hitchock to create The Magic Yarn Project, and with the help of volunteers, these ladies managed to bring happiness to tons of pediatric cancer patients with their gorgeous princess wigs.
Holly Christensen is the super-mom who makes all kinds of dazzling Disney princess wigs for kids with cancer.
Her wig endeavors all started when she made a beautiful Rapunzel wig for her friend's daughter, Lily, who has lymphoma.
Christensen thought the wig would cheer her up during this difficult time and also be sensitive enough for her head.
Lily loved the wig so much, it inspired Christensen to help other children with cancer.
With the help of her partner and a team of volunteers, Christensen was able to start The Magic Yarn Project.
The Magic Yarn Project creates all kinds of amazing Disney princess wigs for kids with cancer...
...and delivers them to pediatric hospitals and families all over the nation.
Unlike regular wigs, all of Christensen's Disney 'dos are made with extra soft baby yarn that doesn't cause scalp irritation.
Christensen told Mashable, "It has been absolutely touching to witness the little girls receive their wigs and see a little magic and sparkle come into their lives during such a hard time."
She continued, "It has also been equally touching to hear from individuals around the globe who want to put on their own workshops in their communities to make these wigs or who are even willing to donate money so we can purchase yarn."
These wigs are certainly dreams come true for many little girls.
Citations: Mom designs magical Disney Princess wigs for children with cancer (Mashable)