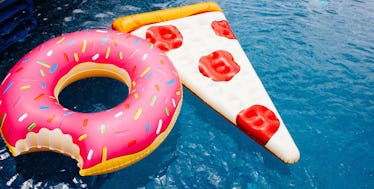 Here Are The Top 5 Can't-Miss Places To Eat At The Coachella Music And Arts Festival
The Coachella Valley Music and Arts Festival kicks off its first weekend on Friday, April 15, and for the 100,000 people who have secured their tickets, overnight accommodations and Instagram-worthy ensembles, there's only one question left unanswered: What about the food?
Like the stacked lineup of performers over the two consecutive three-day weekends, the food vendors claiming real estate on Coachella grounds are not to be missed. We're talking top-notch quick bites from some of California's most publicized and popular restaurants, ranging a variety of cuisines for every meal.
Among the 40 or so food vendors is The Church Key, a West Hollywood restaurant serving up a funky twist on an American cuisine dim-sum style, which has generated quite the buzz surrounding its any-time-of-day doughnuts. If you find yourself wandering by, make sure to try them for yourself.
Then there's Santa Monica-based Sweetfin Poké, a fresh fish bowl shop dedicated to putting a creative twist on the increasingly competitive market of this new-school food craze. One of the restaurant's signature bowls is the Sriracha Tuna, topped with Sriracha ponzu sauce, hijiki and avocado. This is a must-hit if you're craving light fare and the taste of sushi without the hassle.
Is your mouth watering yet? This is just the beginning.
In an effort to not be so overwhelmed by the food as you are by the music and massive amounts of people at Coachella, we've gone ahead and narrowed down the long list of food vendors to the five best spots, based on convenience, selection and variety. Check 'em out below.
Free Range
Who doesn't love fried chicken on a biscuit?
Free Range, a Los Angeles-based food truck serving breakfast and lunch, is exactly what you'll need after hours of rocking out on the Coachella lawns to some classic Guns N' Roses bangers. Not to mention, if you haven't had a chance to catch up to this set of wheels, now is the time.
The options are endless, starting with The Original Free Range LA Chicken Sandwich (shown above), to the Honey Sriracha Free Range Fried Chicken Biscuit and the Free Range Chicken Sausage, Egg and Cheese on English Muffin.
There's more where that came from.
Backyard Bowls
Originally from Santa Barbara, these loaded açaí bowls are making the trip to Coachella Valley to turn up the volume on essential intermission snackage.
For first-timers who want to ease into the experience, go for the Berry Bowl. For those feeling a little more adventurous with a craving for sweet and fruity, aim higher with the Island Bowl, which adds coconut shavings, mango and pineapple juice to the berry bowl's original flavor.
If you're low on energy, definitely opt for the Power Bowl, which incorporates Sacha Inchi Protein Powder and peanut butter for an added boost.
It's worth mentioning that Backyard Bowls isn't only known for its spoon-fully delicious bowls, but also for its wide selection of sip-and-go smoothies.
Donut Farm
Since everyone has a sweet tooth, even in Los Angeles, Donut Farm will be brimming will festival-goers of all lifestyles and dietary restrictions because these holed confections are all-vegan and all-organic, baby.
Hailing from Pebbles Donut Farm in Oakland, San Francisco, Berkeley and Silver Lake, one of these tasty treats will satisfy your sweet tooth without the added guilt.
Since there's no better way to eat a doughnut than with coffee, Donut Farm makes for the perfect slump bump you'll be looking for right around that midday crashing point.
Look for Donut Farm when you need a quick escape for your mind, body and soul.
BCN
Less messy than a burger, with double the flavor, BCN is a West Hollywood-based bikini sandwich and flatbread shop serving up the authentic, rich flavors of Spanish street food.
At some point during the festival, all you'll be able to think about is bread, bread and more bread. That's when you should run, don't walk, to the situation BCN is serving up on the Coachella grounds.
Maybe, you'll want to try a bocata with braised short rib, bravas sauce, mahon cheese, shaved fennel and aioli on a pressed baguette. Or, maybe, you'll have a bikini with jamon serrano (ham), manchego cheese, portobello and truffle aioli.
The incredible flavor in these sandwiches will ruin every meal you have for the following week. Let us know which one you choose.
KazuNori
The offspring of LA's famed Sugarfish, KazuNori specializes in the sushi hand roll that gave the restaurant its reputation, so you already know it's going to be good.
Though sushi under the desert sun and on a full belly of beer isn't the ideal combination for everyone, the convenience of this top-notch Japanese hand roll heaven is a can't-miss.
Since it all started with the blue crab hand roll -- warm, buttery rice topped with impeccable crab salad, wrapped in a crispy seaweed shell -- if you're a first-time player, go with the obvious.
Citations: EATER