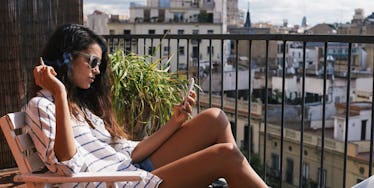 Here's What Apple Should Have Unveiled In Order To Make Stoners Really Happy
Many were disappointed by Apple's latest unveiling on Monday, mainly because the company didn't unveil much of anything.
The new version of the iPhone will revisit the 4-inch screen, which means the iPhone SE is basically an iPhone 6s in an iPhone 5's body.
That's cool... I guess? Austin knows what I'm talking about.
Lame non-updates aside, there are bigger issues tied to the tech giant not stepping up its game. Apple is leaving out one major demographic: stoners.
Since the dawn of the iPhone, cannabis users have been dreaming of using their phones as digital scales. Believe it or not, two dudes have already figured it out and explained how in an in-depth Medium post.
Developer Ryan McLeod, along with some friends, took advantage of the iPhone 6's pressure sensitivity feature, 3D Touch. If you didn't already know you have this on your phone, it basically allows you to press harder on icons within certain apps to get shortcuts for the features you use most.
Now, I'm still over here in the Stone Age, operating on an iPhone 5s, so I don't really know how it works or how it helps me.
The important thing is this feature allowed McLeod and his team to develop an app that turns your phone into a digital scale. On an app they call Gravity, you place a spoon directly on your phone's screen to calibrate the scale. From there, you can place whatever you want in the spoon -- from spare change to herbs to herb -- and weigh things up to 0.8 pounds, or about 4 grams.
Pretty brilliant, right?
Only, when they went to Apple to get their app approved, they got flatly denied.
In his blog post, McLeod said he suspected the name "Gravity" was misleading since there are dozens of scale apps in Apple's App Store that are mainly joke apps to be used "for entertainment purposes only."
The few other scale apps that claim to be real use complicated techniques that aren't really all that accurate or effective. As McLeod explains,
Gravity was most likely confused with the prank apps and rejected for claiming it was a real working scale.
So, he made a short video to show Gravity really works.
Still, they were rejected, with Apple ultimately saying, "the concept of a scale app was not appropriate for the App Store."
What gives? According to McLeod, there could be a few reasons. For one, Apple may be concerned users will damage their phones by misusing a scale app. Another reason could be they don't want drug use associated with the iPhone.
McLeod admits the spoon doesn't exactly help with the negative connotation; however, that doesn't mean you couldn't use the app to weigh innocuous things, like buttons and postcards (not to mention, legal medicinal marijuana).
At the end of the day, shouldn't we be able to use our phones for whatever the f*ck we want? Whether that's taking thousands of selfies or organizing our medicine, we should have the freedom to use our phones to their fullest capability.
Maybe it's about time to rethink some things, Apple. Because rose gold is only going to dazzle us for so long.
Citations: Turning the iPhone 6s Into a Digital Scale (Medium)