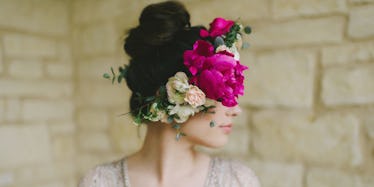 These Wedding Flower Crowns Will Make You Want To Ditch Your Classic Veil
Bohemian weddings seem to be all the rage these days, but you can't blame brides for loving these Coachella-esque ceremonies. Let's be real: Free-spirited affairs are insanely beautiful.
If you want to transform yourself into a chic boho bride on your big day, it's important to remember there's a lot more that goes into your outfit than just picking out the perfect dress. From sparkly shoes and beautiful bouquets to jaw-dropping jewelry and hair accessories, there are so many things you can wear to take your simple white wedding ensemble to a whole new level of hippie chic.
At the moment, my favorite bridal fashion trend happens to be flower crowns. Lately, a lot of ladies have been embracing their inner flower children by ditching the traditional wedding veils and topping their heads with a variety of breathtaking blooms.
I mean hey, if you're going to have a fairytale wedding fit for a princess, you might as well wear a crown, am I right? Whether you opt for a whimsical wreath of wild flowers, a romantic ring of roses or a colorful circle of bold blossoms, all of these stunning flower crowns are sure to make you look fabulous AF on your wedding day.
Take a look at the pictures below to see some of these stunning floral hair accessories:
Lately, a lot of brides have been embracing their boho spirit...
And adding a pop of color to their wedding ensembles...
By ditching the traditional wedding veils...
...for some free-spirited flower crowns.
So far, we've seen everything from woodland wedding wreaths...
And gorgeous gilded flowers...
To braids adorned in pretty pink petals...
...and simple circles of luscious leaves.
I mean, seriously, just look at this fabulous flower crown and fishtail braid combo...
This perfect mix of silver petals and pearls...
...and this dazzling 'do wrapped in baby's breath.
You can't go wrong with a romantic ring of white roses...
...or a classic white crown.
There is nothing more delicate than a charming chain of daisies...
Some bold bohemian blooms...
A halo of Hawaiian flowers...
...or a floral crown that gives off a sophisticated vintage vibe.
You can make a statement with a single flower...
Polish off your look with some white poppies...
Wrap a wreath of wild flowers around your head...
Deck your dome out in stunning succulents...
...or go all out and rock an entire garden on your head.