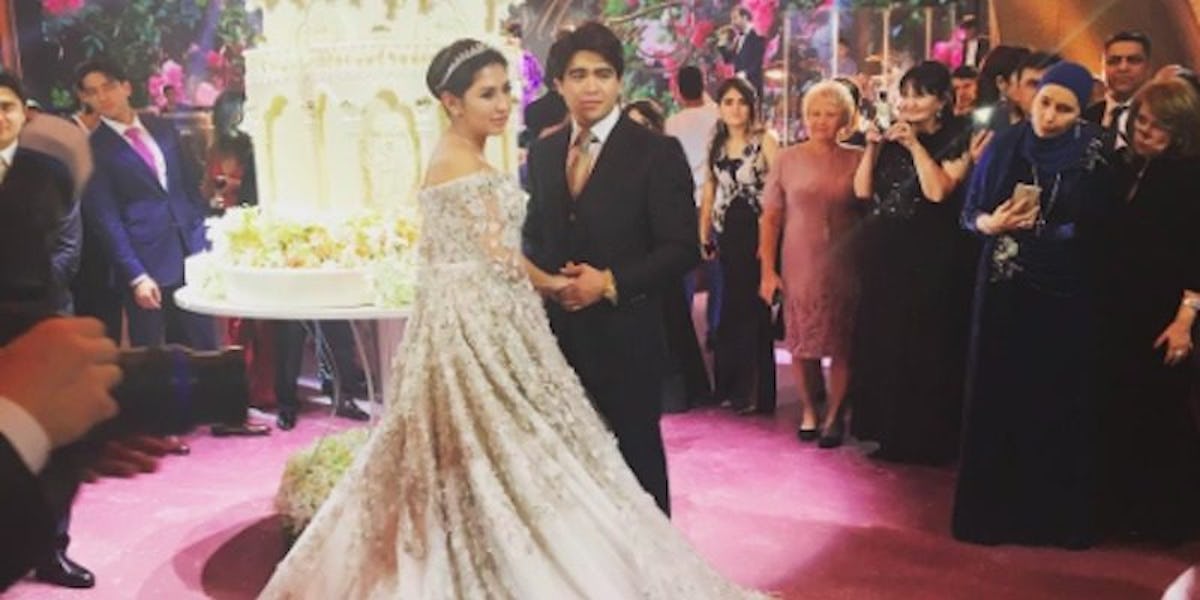 Couple's Lavish Wedding Was So Extreme, The Bride's Gown Cost Over $600K
Instagram
I've seen my fair share of downright extravagant weddings… but it's clear this couple's special day in western Russia truly defines the term "over-the-top."
Move over, Kim Kardashian of China, because this wedding that took place over the weekend gives yours some major competition. Although, both of them look seriously unreal.
Madina Shokirova, daughter of Russian oil tycoon Ilkhom Shokirova, got married in Moscow at the lavish Radisson Royal Congress Park hotel.
According To MailOnline, 900 guests came to this fancy affair to celebrate Madina and her new husband.
Guests were seriously dressed to impress like they were walking an elite catwalk.
It was the bride Madina who really stole the show. She was a stunning vision of glitz and glam in her jewel gown by the British fashion company Ralph & Russo...
For real, her wedding dress looks like it's fit for an actual princess, complete with Swarovski crystals and hundreds of elegant pearls.
OH, and it cost a casual price of over $600,000. NBD!
Just take a look at that train! It's never-ending.
If you think that's the only highlight of the decadent evening, you are totally mistaken...
Let me tell you… the wedding cake was straight-up, pure MADNESS.
The masterpiece was literally about 10 feet tall and crafted by celebrity cake maker Renat Agzamov.
Just take a look at this baby. It's freaking MASSIVE. MailOnline reports it took several men to carry this sucker into the couple's reception.
When it came to the night's entertainment, over $470,000 was dropped on that portion of the event alone.
Prior to her wedding day, Madina jetted out with her main girls (on a private jet, of course) to a resort in Spain, which looks the place where her bachelorette party went down.
Cheers to Madina and her new beau!
Citations: Is this the most extravagant wedding EVER? Russian oil tycoon's daughter marries in a lavish ceremony that includes private jets, a 10ft cake and a £500,000 bridal gown (MailOnline)