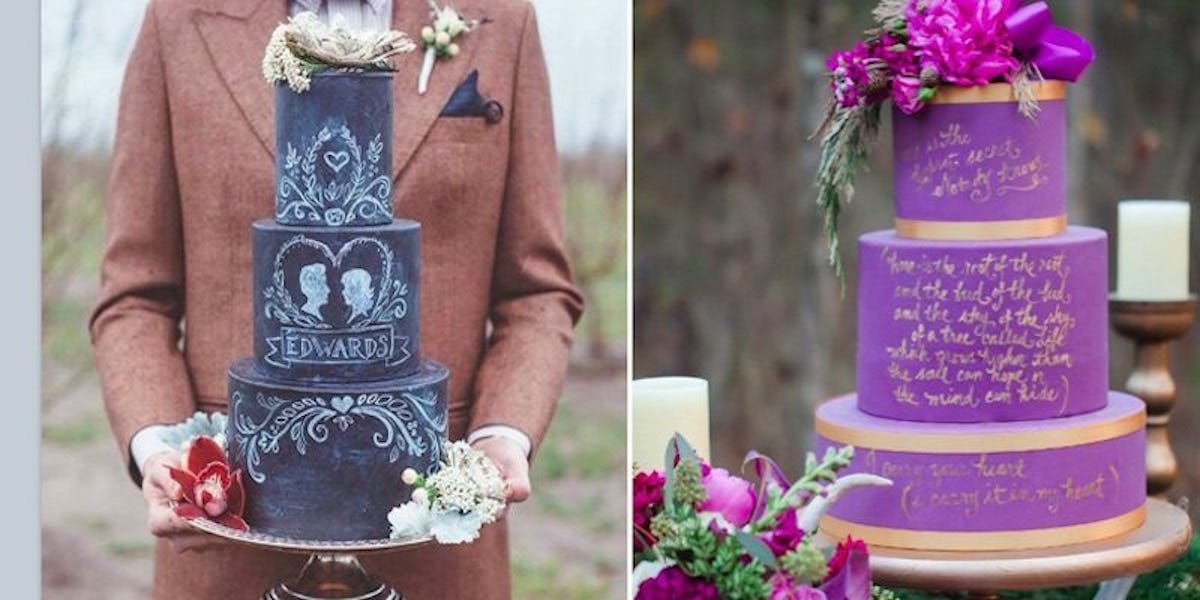 24 Of The Most Insanely Gorgeous Wedding Cakes On Instagram
Instagram Instagram
When it comes to wedding cakes, I feel like brides always go for the same things.
They're typically tiered, vanilla cakes covered in white frosting with some kind of floral design.
I don't know about you, but I think that sounds pretty damn boring.
Your wedding is supposed to be one of the most memorable and exhilarating events of your life, so wouldn't you want to celebrate the big day by cutting into a cake equally as exciting?
When it comes to turning heads at the dessert table, there's a handful of brides out there who ditch the traditional desserts and dare to do different things with their wedding cakes.
There are all sorts of ways you can take your wedding cake to the next level -- from fabulous flower-clad confections and towering ombre treats to cakes frosted in kaleidoscopes of colors.
So in order to give you some sweet inspiration, we set out to find a bunch of eye-catching wedding cakes so beautiful, they'll bring "tiers" to your eyes.
Take a look at the pictures below to see these awesome wedding cakes.
This stunning cake is the perfect way to add some sweet color to your reception.
You could also celebrate the big day with an over-the-top ombre cake...
A milk-and-cookies masterpiece...
A charming chalkboard cake...
...or a lovely towering treat.
You can try a sweet nautical number...
A pinecone-clad confection...
A glittering, gold dessert...
A copper-brushed baked good...
...or a pretty, pink peony creation.
You can't go wrong with this woodland wonder...
This blooming, blue beauty...
This magenta masterpiece...
...or this fabulous fairytale frosting.
Nothing says, "I do," like this topsy-turvy treat...
This literary, lilac cake...
...or this edible artwork.
Check out this simple doughnut cake that dared to be different...
...or this bold bohemian confection.
I mean, seriously, just look at this delicious display of black and gold.
Whether you opt for a circus-inspired sweet...
A sugary cityscape...
Or a tropical pineapple treat...
...all of these enchanting cakes are sure to blow your guests away.