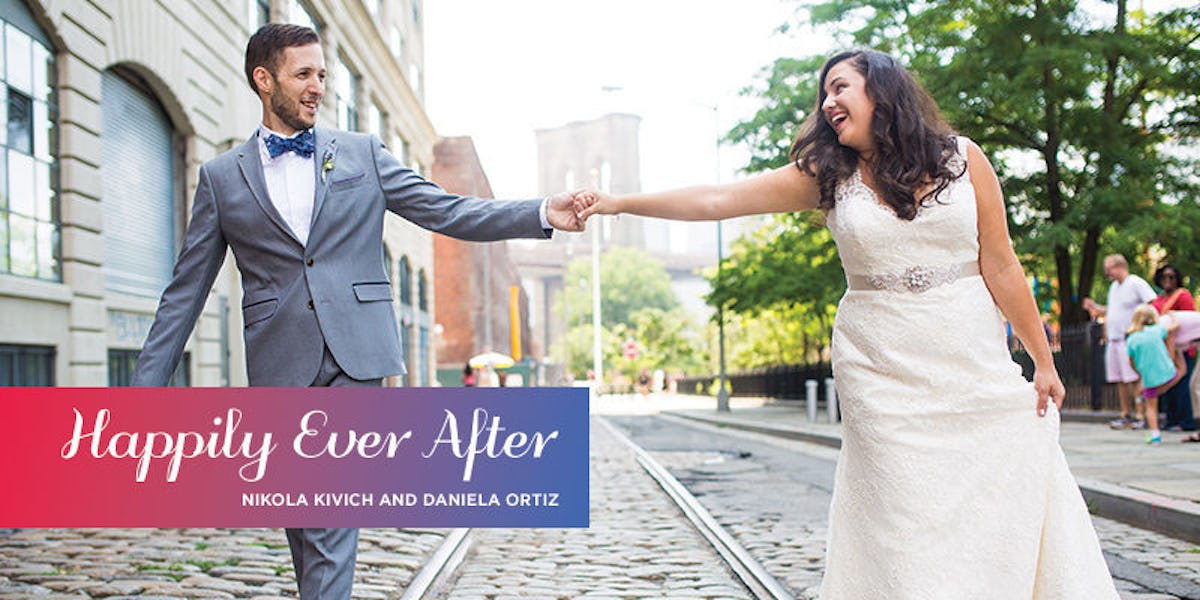 Happily Ever After: This Is The Vintage Wedding Of Your Dreams
This entrancing story unfolded when Nikola Kivich and Daniela Ortiz took off work to have a "day of fun." After getting massages and enjoying lunch, the couple went for a stroll.
Nik began to tell his bride-to-be how much he loves her, and how "perfect we are together," as Daniela put it.
On their big day, Daniela and Nik's first look came straight out of a romance novel.
A vision of utter bliss unfolded on a charming street in Dumbo.
The groom's reaction to seeing his beautiful bride in her gown for the first time will certainly melt your heart…
The special memories of the day began even before this captivating moment in Dumbo, though.
Daniela's mom, aunt and bridal party arrived at the bride's hotel room earlier that morning to prepare for the exciting day ahead.
Let's be real here, no one gets the party started like Beyoncé.
The bride's Augusta Jones gown was an absolute show stealer, accompanied by the bridesmaids' beautiful glittery dresses.
When it came time for group photos, the bridal party certainly captured the essence of how amazing it is to be surrounded by close friends who love you.
The happy couple held their ceremony and reception at The Green Building in Brooklyn.
Ranunculus, dahlias, tulips, wild spray rose and lavish green accents completed the bouquets.
Daniela was truly a vision of happiness, beauty and elegance walking down the aisle to meet her groom.
The couple added many unique touches to their wedding day, including hand-drawn table cards of places with special meanings -- from where they first met and spots in their neighborhood to where the bride and groom's parents are from.
The overall theme of this stunning day was vintage and Brooklyn.
Daniela and Nik's wedding cake was from a divine Italian bakery in Queens. The delicious confection was covered in fondant frosting, with a Nutella and lemon custard filling in the middle.
The adorable toppers were created and painted by one of Daniela's bridesmaids.
As far as the dessert table was concerned, let's just say it certainly did not disappoint with an assortment of delicious Italian desserts.
The couple's special day was so incredible, even Queen Bey herself couldn't resist making an appearance…
Cheers to the beautiful couple, Daniela and Nik.