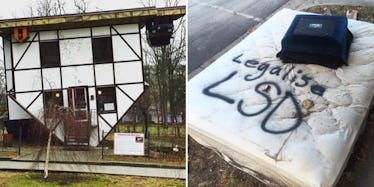 These 'Ugly' Instagram Accounts Will Totally Refresh Your Fake AF News Feed
It's no secret Instagram tends to be fake AF.
Whether it's super staged selfies, artfully arranged food porn pics or insanely filtered sunset photos, everyone knows Instagram photos can be pretty deceiving.
However, there are a bunch of Instagram users in Australia who are clearly sick and tired of the social media status quo because lately, we've seen a lot of Aussies ditching the pretty pics for some seriously ugly snapshots.
That's right, ugly Instagram pictures are the newest trend taking over the internet, and I have to say, these unsightly snapshots will certainly add a breath of fresh air to your news feed.
Tom Lee, the man behind the Instagram account The Australian Ugliness, told Mashable,
From my perspective, I was uncomfortable with the idea of doing something that was beautiful or pretty. It's a lot harder for me to feel a sense of certainty about the aesthetic judgments associated with the beautiful than with the ugly or the irregular [...] By choosing beautiful things, like sunsets, you run the risk of coming across as naive, where ugliness is the genre of the more aware.
From pitiful park benches and abandoned mattresses to grisly garden accessories and home designs gone horribly wrong, there are all sorts of hilarious accounts that prove the world is still a pretty ugly place.
Check out the pictures below for a closer look at this unsightly new Instagram trend:
Ugly Instagram accounts are on the rise in Australia...
And now, a lot of people are ditching the fake, picture-perfect selfies...
...for variety of photos that celebrate all of the unattractive sights around us.
So far, we've seen everything from grotesque gardens...
Filled with all sorts of shitty statues...
To Instagram accounts that call out fugly lawn offenders...
That want to watch the world burn with their monstrous mailboxes...
...and their unsightly armies of garden gnomes.
But, the ugliness doesn't stop there.
There are photos that bring attention to the growing problem of homeless mattresses living on the streets of Melbourne...
...and pics that pay tribute to a variety of appalling outdoor benches.
Not to mention, there's a clever Instagram account filled with hideous houses...
...that are an eye-catching architectural example of Frank Lloyd Wright Wrong designs.
Citations: Ugly Instagram' is the only good thing left on the internet (Mashable)