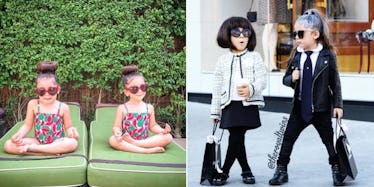 These 4-Year-Old Twin Sisters Are Absolutely Crushing The Fashion Game (Photos)
There's nothing cuter than a little kid with some seriously impressive style -- except maybe two extremely trendy kids, of course!
Bella and Chloe may only be 4 years old, but these two adorable twin sisters already mastered the art of playing dress up.
These cuties got their first tastes of high fashion when their mother, Lucy Abir, dressed them up in clothes from "Breakfast at Tiffany's" and snapped photos of them on Rodeo Drive, a street well-known for shopping in California.
The rest was pretty much history, and now, these pint-sized fashionistas are completely slaying the kid's fashion scene.
Recently, Bella and Chloe became quite the sensation on social media, thanks to all their impeccable high fashion #OOTDs.
Take a look at the pictures below to see these cute kids who are totally winning fashion.
Meet Bella and Chloe.
These gorgeous 4-year-old girls are twin sisters...
...who know a thing or two about flexing some impressive fashions.
In fact, these cuties might just be the best-dressed kids on social media.
They already have 21,000 followers, thanks to all of their stylish uploads.
Their road to Insta-fame all started when Lucy Abir, their mom, dressed them both up like Audrey Hepburn and took photos of them on Rodeo Drive.
Describing the kids' photo shoot, Abir told Cosmopolitan, "People started to follow us and snapped pictures of them with their phones during their photo session and uploaded them on social media."
Since then, these twins have been dominating the style scene...
With all sorts of heavenly #OOTDs...
Ranging from Vogue-inspired outfits...
And high-fashion Halloween costumes...
To stunning summer ensembles...
...and insanely chic kids couture.
Abir said, "Chloe is the bossy one who loves bright colorful outfits."
She continued, "Bella, on the other hand, is my sophisticated little diva [who] naturally loves classic and neutral colors!"
It's only a matter of time before we see these two girls strutting down runways during fashion week.
Citations: These Stylish Four-Year-Old Twins Take 'Playing Dress Up' To High Fashion Levels (DesignTAXI), These 4-Year-Old Instagram Stars Are More Fashionable Than You Could Ever Hope to Be (Cosmopolitan)