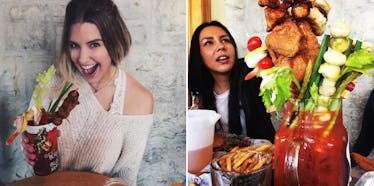 8 Bloody Mary Hotspots The Boozy Brunch Lover Needs To Travel To In Their 20s
Instagram
If you're a boozy brunch queen, who lives for bottomless Bloody Marys, now's the time to expand your palate… across the country, that is.
When the wallet doesn't want to budge, our wanderlust always seems to get the best of us over succumbing to being broke AF.
And when the taste buds are calling, there's not much you can do other than quench that marvelous thirst.
Spring is here, and summer is just around the corner — that gives you the prime excuse to start looking into vacations and solidifying a plan with your main gal pals.
Ring in the warm weather in beautiful, boozy style, because you freaking deserve it.
All the better if your squad shares the same passionate love for the buzz as you do, because these destinations revolve around #BrunchGoals.
If you think no Bloody Mary can trump the previous one you devoured, get ready to be pleasantly surprised. The majority of these downright ridiculous cocktails can be meals within themselves.
Here are eight trips every brunch queen needs in her 20s, to embrace her Bloody Mary obsession.
1. Sobelman's Pub & Grill — Milwaukee, WI
DAMN, this Bloody Mary looks like it could casually feed an entire family.
Sobelman's dishes out its Bloody Marys in gallon-sized jars.
The "Chicken Fried Bloody Beast" costs $50 a pop, and looks well worth the investment, in my opinion.
BRB, hitting up Milwaukee, because #priorities.
2. Buffalo & Bergen — Washington, DC
We spoke with a v. esteemed Bloody Mary fanatic in DC about this choice, and all I can say is #BAEgoals.
Everyone should stop what they're doing and give this ginormous and ridiculously scrumptious-Bloody Mary (complete with a bagel casually chilling atop) the attention it deserves.
3. Logan Tavern — Washington, DC
Can someone say double trouble? Logan Tavern has a hot damn fine-looking Bloody Mary menu that will make any brunch lit.
4. Anvil Pub — Dallas, Texas
The brunch game just went zero to 100 real fast.
5. Cookshop — New York, New York
Cookshop not only has a delish (and trendy AF) brunch spread, but it also has a v. impressive Bloody Mary menu all of its own, too.
When it comes to decision time, you'll have the toughest time choosing between the "Kale Mary," or the BLT Mary. If you're a classic kinda chick, stick to the Classic Mary.
6. Sunda — Chicago, IL
Look at this motherload. The caption game is so strong, I can't even. Sign this chick over here UP for one of those.
7. Icehouse — Minneapolis, MN
Icehouse coming in clutch with the doughnut on top…
… OR, an oyster.
8. Franklin & Company — Los Angeles, CA
Franklin & Co. knows what's good when it comes to crushing boozy brunch.
*Instantly starts to salivate.*
Get ready to pack up and hit the road, because brunch is calling.