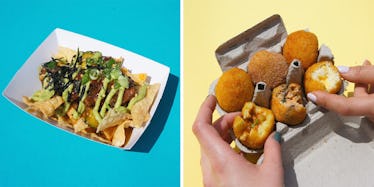 These Are The Trendiest Foods To Eat (And Instagram) In NYC Right Now
Guys, it's no secret New York City has one of the best, most extensive food scenes in the world.
You can pretty much get anything your stomach would ever dream of and if you think you've invented some intricate concoction, 94 percent of the time it's been done before (rough estimate).
If you live here, though, you also know it can be pretty overwhelming trying to keep up with the newest trends and where the spots to eat right now are -- especially because there are five boroughs to consider.
Luckily, twice a year restaurants from all over the city with some of the most creative and drooled-over menu items convene for a month of Mad. Sq. Eats.
Now in its ninth year, the event is a highly-selective mini mecca for NYC's most up-to-date dining, situated right in front of the Flatiron Building (the perfect backdrop for all the posts we know you'll put up on Instagram because who cares if your food gets cold or a pigeon sh*ts on it in the process? You broke triple-digit likes!).
So, if you're feeling a little lost and in need of some mealtime inspiration, there's no better place to look than right next to Madison Square Park.
Elite Daily got the chance to head over to the pop-up market and check out some of the most original and – needless to say -- delicious NYC foods available this month.
Take a look below at the latest amazing eats you should be trying.
Big Eye Tuna Poke Nachos
Everyone in my office is obsessed with poke -- if you're unfamiliar, it's pronounced "poh-kee."
It seriously seems like poke came out of nowhere and no one ever wants to get a regular ol' sandwich at lunch anymore.
If you want to be in the ~cool~ lunch crew at work (which, clearly, I am not), go get your hands on some of Gotham's poke nachos.
Bacon-Wrapped Avocado Fries
Um, basically, Masa -- a new Tamalaria concept -- took everyone's two favorite things and put them on a toothpick. Bacon, avocado and nothing stuck in your teeth! What else could you want?
Cheesy Lobster Fries
Lobster rolls are great and all... but Red Hook Lobster Pound added cheesy fries into the mix, and everything is better with cheese.
Carnitas Masala Lentil Dosa Waffle
Inday proves eating good food and eating healthy food isn't a one-or-the-other situation.
The waffle itself is vegan and gluten free, so your diet doesn't have to fly out the window when you go out to eat.
Rice Balls
Arancini Bros created little rice balls that somehow each taste like an entire meal. Although the options change, some we saw on the menu included: cheeseburger, pizzaiola, Philly cheesesteak, spinach and ricotta and Nutella.
Chocolate, Banana and Strawberry Crêpe
OK, so this dessert may not be particularly innovative in terms of ingredients, but Bar Suzette has really mastered the crêpe.
Also, the cardboard cone is a really nice touch if you're a slob on the move like me.
Sidney Hot Dog and Huli Huli Chicken Sandwich
Let me explain.
Ono Hut by Asia Dog's Sidney Dog is made with mango slaw, red onion, cilantro, cucumber and peanuts, while the Huli Huli has a chicken patty with pickled pineapple, relish, teriyaki, provolone, lettuce and tomato on Hawaiian bread.
"Seduction" Ice Cream Sandwich
Melt Bakery offers four varieties of ice cream sandwiches at Mad. Sq. Eats, with one of those slots reserved for a constantly-rotating seasonal flavor (the bakery itself offers more options).
The flavor of the moment, "Seduction," has double chocolate cookies with espresso ice cream.
Ice & Vice and Squish Marshmallows Collaboration
Ice & Vice teamed up with Squish Marshmallows for a dessert collaboration that actually tastes like heaven and will f*ck up any diet you're trying to keep because you'll end up eating 15. But it's worth it.
The #MadSqEats spring market runs until May 27 from 11 am to 9 pm daily and will be back September 10 to October 7 with a new lineup.