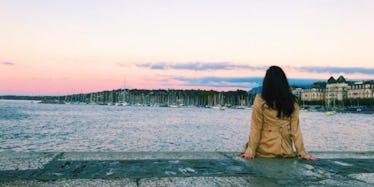 Woman Travels To Exotic Places On Weekends And Spends Less Than $1K
Instagram
When I meet people who have traveled a lot, I'm amazed.
They grew up with parents who took them to exciting new locations, they studied abroad in college, or maybe they went to visit family around the globe.
I, on the other hand, have been to like three places and one of them is New Jersey. I don't even own a passport.
When I was a kid I would be terrified at the thought of disappearing in the Bermuda triangle. Now, I know that's a crazy fear because I can't afford to travel.
OR CAN I?
This is 23-year-old Elona Karafin, and she takes weekend trips to exotic locations, all for under $1,000.
The New Yorker can stretch $1,000 to cover airfare, lodging, food and entertainment.
Meanwhile, I can barely stretch $1,000 to last a night at Dave & Busters.
What I want to know is this: HOW DOES SHE AFFORD LIVING IN NEW YORK AND TRAVELING?!
Karafin has a fantastic reason for why she travels. She said,
I had cancer when I was 10. Now I realize, people around me, people my age or people older, everyone is dealing with something that stops them from doing what they want to do. I don't want to waste away my youth and I don't want others to waste away their youth and I don't want them to do it because people think they don't have enough money or enough time.
The recent college grad works as a financial analyst at an e-commerce and postage supply company.
She says that you don't have to be rich to travel.
Elona has been to Bali for three days, visited her friend in Poland for eight hours and wrapped up Amsterdam in two days.
You can read about her journeys on her blog "Elona The Explorer."
Citations: This Hot 23-Year-Old Travels Around The World On Weekends For Under $1,000 A Trip–Here Are Her Traveling Tips (Brobible)