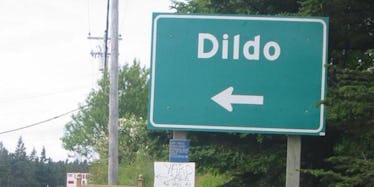 There's A Town Actually Named 'Dildo,' And Here's Why You Should Visit
Wikimedia Commons
There are a lot of interesting places in the world. But if you think you've visited some towns with pretty unique names, just wait because you haven't seen anything yet.
It turns out there's a town in Canada that's actually called Dildo. No really, I'm not joking.
This phallic fishing town is located in the providence of Newfoundland and Labrador, and in case you were wondering, the answer is yes, the people who live here do refer to themselves as Dildoians.
All sex jokes asides, this charming little village looks like the perfect destination to dick around for a few days. Visitors really seem to get off by taking Instagram pics alongside Dildo's signature road signs. Plus, you can get a little wet and feel the motion of the ocean by hitting up Dildo Harbour for a day of boating and fishing.
If that's not convincing enough, you'll be glad to know this wee town also has an annual waterfront festival at the end of July known as Dildo Days. A bunch of boats parade through the harbor, led by none other than the town's infamous mascot, a wooden statue named Captain Dildo.
Yep, if you ask me, this private little place definitely deserves a spot on your steamy summer travel list.
This sign might look like a pretty funny practical joke...
 ...but it turns out, Dildo is actually a real town.
This private little fishing village is tucked away in Canada's providence of Newfoundland and Labrador...
...and its residents actually refer to themselves as Dildoians.
Before you let the cocky name of this town turn you off, you should know this wee village is the perfect place to satisfy your wanderlust with a quickie weekend vacation.
If you're not afraid to get a little wet, you can venture down Dildo's gorgeous waterfront...
...grab your fishing pole and hit up Dildo Harbour to chase some tail.
Or, you can see some seriously impressive wood by visiting some of the carved statues scattered around town.
If that's not enough to convince you to pack your bags, you'll be glad to know Dildo even has its own damn holiday at the end of July, called Dildo Days.
People celebrate this phallic fishing town by parading their boats through the harbor, and it's led by none other than the town's iconic mascot, Captain Dildo.
Citations: Proud to Live in a Town Called Dildo (New York Times)