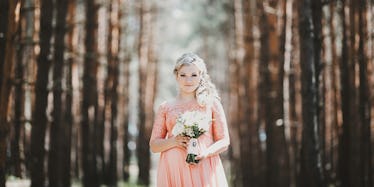 These Weddings In The Middle Of The Woods Are A Whimsical Dream Come True
Shutterstock
There are all sorts of beautiful places you can tie the knot.
From beautiful boho beach weddings and dreamy desert elopements to gorgeous garden ceremonies and barnyard wedding bashes, there's a wedding out there to make every bride-to-be fall head over heels in love.
If you're looking for a way to make your dreams of having a fairytale wedding come true, don't worry, we have you covered.
We recently came across a gorgeous wedding theme that looks like something straight out of a storybook. Behold, woodland weddings.
These enchanting forest affairs are the perfect way to embrace mother nature as you walk down a treeline aisle and say "I do" under the open skies.
From the flower arrangements and dreamy flowing dresses to the earthy accents and dance floors illuminated with twinkling fairy lights, you really can't go wrong with a whimsical reception in the middle of the woods.
So we rounded up some wild wedding ideas that will inspire you to ditch the traditional chapel wedding and marry the love of your life in the wilderness.
Check out the pictures below to see these fabulous forest weddings.
 If you're looking for a truly memorable way to tie the knot...
...you can't go wrong with a whimsical woodland wedding.
You can send out some idyllic save the dates...
...pin a pinecone to your groom's lapel...
...carry a flower bouquet inspired by the forest...
...wrap your head in a woodland wreath...
...or blow your guests away with an ethereal bridal gown.
Just look at this aisle between the treetops.
And this camp-inspired ceremony.
And this wonderful woodland wedding arch.
These beautiful rustic bands will definitely make you want to say "I do."
Who needs confetti when you can fill the air with lovely little leaves?
You can impress your guests with a picturesque family tree...
...or you can opt for an oaky seating arrangement...
...and top your tables with some accents from Wonderland.
You can't go wrong with some dreamy woodland decor...
...some simple, yet elegant place settings...
...some natural name cards...
...an enchanting dinner reception in the middle of the woods...
...a dazzling cake that doubles as a chandelier...
...an adorable drink station that will get you buzzed...
...a variety of Alice-inspired desserts...
...or a s'mores station that will bring back sweet memories of summer camp.
Seriously, this first dance looks like something straight out of a fairytale.
How could you not live happily ever after with a wedding like this?