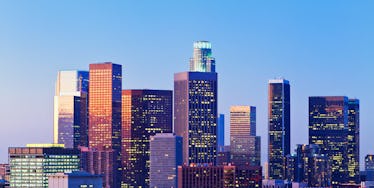 The Tallest Building On The West Coast Is Getting A 1,000-Foot-High Glass Slide
Shutterstock
Daredevils throughout the Los Angeles area are going to be able to take their thrill-seeking tactics to all-new heights.
With the US Bank Tower undergoing a massive $50 million renovation, the West Coast's tallest building is set to build a new two-floor observation deck offering stunning, 360-degree views of the city.
In addition, the renovation also includes a 36-foot glass slide perched atop the 70th floor of the bank tower. It will be appropriately called the Skyslide. The slide will allow visitors to slide down from the 70th floor to the 69th floor. Sounds awesome, right?
Yeah, just try not to throw your lunch up as you glide 1,000 feet over Downtown Los Angeles!
According to LAist, since a large chunk of the building is empty, you'll have to fork over $25 just to visit the Skyspace observation decks. You'll also have to fork over an extra $8 for the Skyslide.
But hey, $33 to do something you won't regret is a small price to pay!
As part of the makeover, the US Bank Tower will also feature a restaurant that will take over four different floors throughout the building.
There has not been a set date on when the new observation deck and slide will be open for business, but there is speculation it will open mid-2016.
Citations: U.S. Bank Tower Will Get A Vertigo-Inducing Glass Slide On The 70th Floor (LAist)