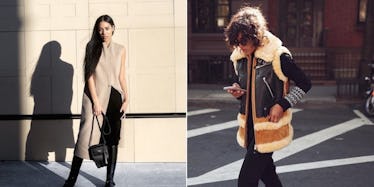 19 Fashion Instagrams That Will Give You Serious Sweater Weather Goals
Instagram
We're well on our way into the colder months of the year, which means sweater weather is finally in full swing.
But just because the temperatures start to fall doesn't necessarily mean your #OOTD standards should drop with it.
Seriously, there's no weather cold enough to warrant leaving the house in that fugly, unflattering sweater your friend totally re-gifted to you last Christmas.
Yep, it might seem a bit hard to believe, but it is possible to dress warmly while still looking polished and put together.
So in order to give you some autumn style inspo, we set out to find a bunch of badass fashionistas who are completely slaying sweater weather with their cozy ensembles.
Whether these ladies are showing off some chic cable knits with over-the-knee boots, flexing some fabulous furry vests or shielding themselves from the brisk air with drapey designer coats, all of their impressive outfits will give you some serious #SweaterWeatherGoals.
Take a look at the pictures below to see 19 stylish accounts  dominating the fall fashion game.
Vanessa Hong
Camille Charrière
Aleali May
Gizele Oliveira
Shai Chung
Zina Charkoplia
Mary Seng
Chiara Ferragni
Charlotte Groeneveld
Natalie Joos
Cate Underwood
Krystal Bick
Margaret Zhang
Julie Sariñana
Rach Parcell
Christina Caradona
 Nicolette Mason
Julia Engel
Lydia Mansel & Aly Vander Hayden