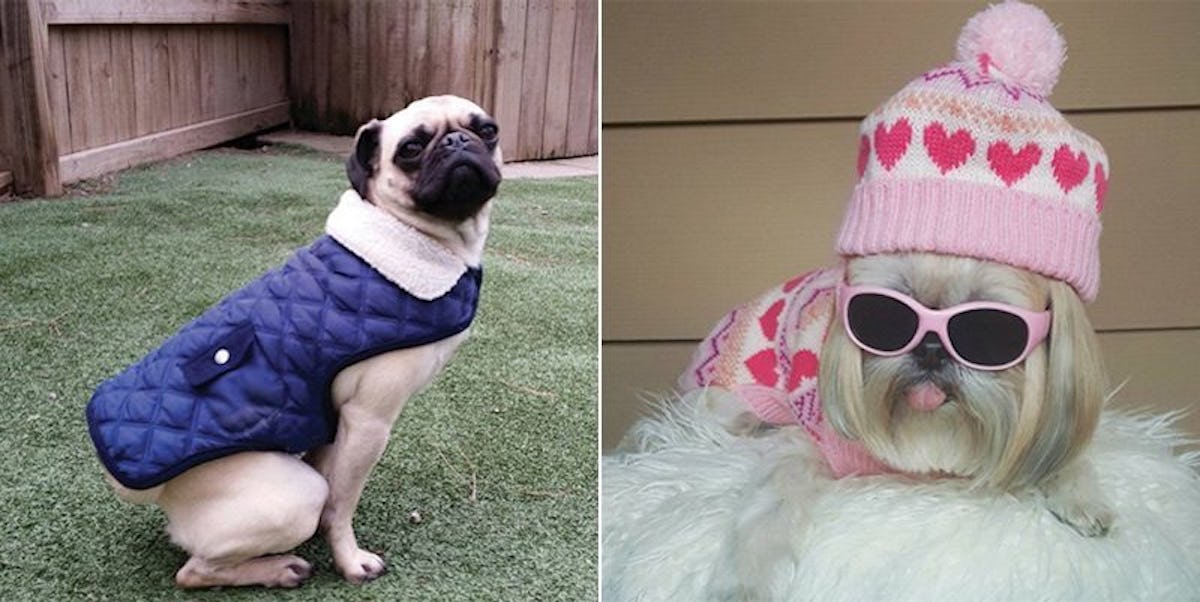 These Dogs Are Rocking Sweater-Weather Fashion Better Than Most Humans (Photos)
I've never understood how some people manage to look fashionable when it's cold outside.
Once the thermometer drops below freezing, all my chic ensembles get swapped out for as many layers as I can get onto my body without looking like that kid from "A Christmas Story" who couldn't put his arms down.
So obviously, I respect the hell out of anyone who can manage to find an #OOTD that is both warm and Instagram-worthy during the winter months.
But you know what's even better than someone who knows how to conquer sweater-weather style like a pro?
A dog that knows how to slay sweater weather, of course!
Yep, it turns out there are a lot of dogs out there that aren't afraid to bundle up in some insanely stylish doggy digs and show cold weather who's boss.
From swagged out sweaters and fur on fur fashions to doggy down jackets and barking booties, these dogs definitely don't f*ck around when it comes to bringing the fido fashion game.
No really, these dogs do sweater weather better than most people do.
These furry fellas are totally killing the winter fashion game.
I mean seriously, just look at this hound in a hat...
...this dog that isn't afraid to flex a little fur on fur...
...this monochromatic mutt...
...this proud pug in a parka...
...this scarf-clad canine...
...this fido in fleece...
...and this barking babe rocking the blanket scarf trend.
Who knew staying warm could look so damn good?
This pup proves you can can never have enough layers.
The snow is no match for this stylish icon...
...or this canine in a red coat.
Check out this pretty pup in pink...
...this swagged-out snow bunny...
...this woofin' weatherman...
...and this adorable mutt in ear muffs.