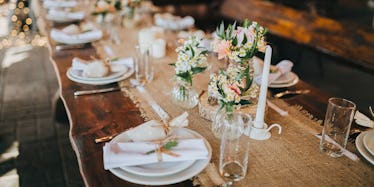 Here Are 3 Subtle Ways Couples Are Including Marijuana In Their Weddings
Shutterstock
We've all attended at least one yawn-worthy, cash-bar, stuck-up, no-fun wedding. Clearly, the best celebrations of love are the ones that are chill, low-key and genuinely reflect the personalities of the couple involved rather than the amount of money their families can throw down.
The focus on low-key, fun ceremonies also reflects a greater interest in personalization. Signature wedding cocktails and colors, quirky cakes and hand-crafted favors all reflect the new idea that a wedding says something about the couple, their shared aesthetic, pastimes and enthusiasms.
And, let's face it. In 2016, especially for many couples in states where marijuana has been legalized, cannabis is part of that story.
While a cannabis wedding would've been unthinkable just a few short years ago, now it's not only possible to incorporate cannabis into your nuptials, but a bona fide trend. Here are three non-cheesy ways to make weed a part of your wedding.
The Decor
While nobody (ok, maybe a few people) wants to see a tie-dyed, pot-leaf-themed wedding, a cheeky nod to the couple's love of green in the form of bouquets and floral arrangements is on the rise in legal states.
Companies like Bud and Blossoms specialize in professional floral arrangements that incorporate cannabis, as long as it's purchased from a dispensary. Some brides are even dreaming up centerpieces that include marijuana as the greenery. After dinner, guests can help themselves. Best check this one out with your venue in advance.
The Party Favors
What party-minded guest wouldn't get a kick from a swag bag including a cute mini-J rolled in gold papers?
What about a luxe box of infused truffles or French macarons? If you're looking for a less obvious, or potentially dangerous-for-unsuspecting-recipients favor, opt for something that has both marijuana and non-marijuana uses like a souvenir candy jar, which can be re-purposed to hold flower. Personalized candies can satisfy the post-wedding munchies.
The Reception
Isn't this the most important part?
Just like the decision to have an open bar, or which signature cocktails you want to keep flowing into the wee hours, making sure guests know the reception is cannabis-friendly can go a long way toward making sure everyone feels comfortable.
Be courteous to relatives and friends who don't partake by clearly designating smoking and non-smoking areas. Depending on the venue, a luxurious Lotus Belle tent with some throw pillows inside can be a perfect hookah haven for the 420 crowd.
This post was originally written by Julia Wright for Civilized.
Citations: Here Are Some Subtle Ways Couples Make Cannabis Part of Their Weddings (Civilized)