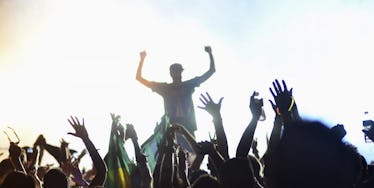 This Festival For Students Studying Abroad Is Changing The Game
REUTERS/Gaston De Cardenas
The idea to create a festival in Barcelona came to light over paella and sangria in Ibiza. Who doesn't love festivals? And who doesn't love Barcelona?
But the real question was what kind of festival?
De Lis Group and Prime Social Group had plenty of experience running concerts around the world, but they realized there was no festival for the ever-increasing students studying abroad in Europe.
Most importantly, they realized that students studying abroad wanted nothing more than to reunite with their friends. And what better place than the party capital of Europe: Barcelona.
They knew then that Abroadfest was a concept that had the potential to become the festival of friends, and—combined with talented performers, live DJs, and a dynamic city—an ultimately unstoppable event.
In 2013 Abroadfest was born, and 2,000 students flew in for one night from Rome, Prague and Florence to see notable DJs like Kaskade, Nicky Romero, and Thomas Gold.
In just three short years, Abroadfest has grown tremendously, and now yields 12,000 students from over 15 cities in Europe, including London, Paris, Rome, Florence, Prague, Copenhagen and Madrid.
The 2016 edition boasted multiple events spanning three days with a total of 25 international DJs. Taking place at Razzmatazz, the event gained a reputation as the craziest party of the year for the city of Barcelona.
Students traveling to the event even received discounts thanks to the DLG card, complete with discounts on recommended sights, restaurants and hotels.
Abroadfest 2017 plans to host two beach events and a return to the insanity of Razzmatazz. So if you find yourself in Barcelona next spring, or you're bidding your friends adieu, make sure to buy tickets because your European experience begins and ends here.