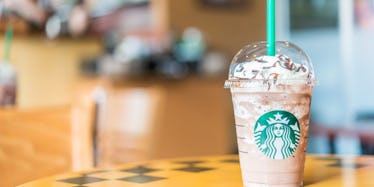 This Is The Starbucks Secret Menu Item We All Need To Try This March
Getty Images
Hoo boy, I'm excited for March, you guys. It's truly the best month.
Not only does it have an entire holiday devoted to drinking beer and being nice to redheads like me (score), but also all my favorite beverages get shamrock-ified, WHICH IS AWESOME.
There might be some basketball thing that happens too, but MOSTLY THE DRINKS! Usually, it's all about those Shamrock Shakes from Mickey D's for this gal, but Starbucks might give McDonald's a run for its money with a special drink you can order from the secret menu.
Drumroll please... It's the SHAMROCK FRAPPUCCINO!
The Shamrock Frappuccino starts with a Vanilla Bean Crème Frappuccino base, and then peppermint syrup, classic syrup and matcha powder get added. Check Starbucks Secret Menu for exact measurements. (Make sure you know the recipe when you order in case the barista doesn't recognize the name.)
Honestly, this drink sounds amazing. What better way to both get you caffeinated and get you in the spirit for the best month of the year?
The best news is it's not an exclusively seasonal drink. Just order off the secret menu any time! So, you don't even have to wait to get it!
And, if you're some kind of weirdo who hates delicious and festive drinks, check out these other secret-menu gems you can order.
Man, this shamROCKS.