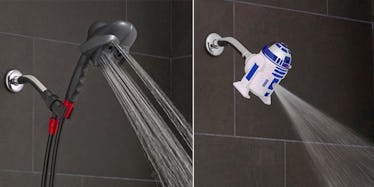 These 'Star Wars'-Themed Showerheads Will Help You Clean Your Dark Side (Photos)
If you're a "Star Wars" fan in dire need of a bathroom renovation, you'll love this.
A company called Oxygenics designed these incredibly rare "Star Wars" showerheads that will change your life. You won't ever want to get out of the shower after you install one of these!
According to Bored Panda, the Oxygenics geniuses created Darth Vader and R2-D2 showerheads that are being sold internationally at Bed Bath & Beyond locations.
Looking for the best way to prepare for the release of "Star Wars: Episode VII - The Force Awakens"? These should get the job done!
Check out the photos below for a closer look.
Spruce your bathroom up with these "Star Wars"-themed showerheads.
As y0u can see here, both the Darth Vader and R2-D2 showerheads are made to give you the shower of a lifetime.
You can almost feel the water pressure.
For just $25 for R2-D2 and $30 for Darth Vader, you can bring the Force with you into your shower.
As of now, these showerheads are being sold exclusively at Bed Bath & Beyond locations.
Citations: Star Wars Showerheads Will Let You Bathe In Vader's Tears (Bored Panda)