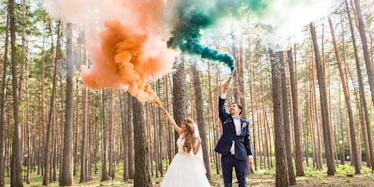 These Colorful Smoke Bomb Weddings Are The Hottest Way To Tie The Knot
Shutterstock
Last year, sparklers seemed to be the "it" accent at every unforgettable wedding event.
But now, brides and grooms are ditching the sparkly sticks for a new wedding trend that's totally the bomb.
Literally.
That's right. Smoke bombs for weddings are the newest trend heating up the ceremony scene and these gorgeous clouds of color definitely put those pathetic sparklers to shame.
It's not hard to see why people are so blown away by these smoky soirees.
Adding some smoke to your ceremony creates a dreamy backdrop that looks like a surreal scene in the middle of an enchanted forest.
These brilliant bombs are easy to use and come in every color imaginable.
Plus, it only takes a few of these bad boys to light up the sky and make a big statement on your special day.
Take a look at the pictures below to see these stunning smoke bomb weddings.
If you thought sparklers were the coolest thing you could have at your wedding, think again.
Now, something new is taking the ceremony scene by storm...
...smoke storm, that is.
That's right. Smoke bomb weddings are now the hottest way to tie the knot...
...and these enigmatic affairs are insanely beautiful.
Some colored smoke can turn your wedding into an enchanting event...
...that looks like something straight out of a fairytale.
You can paint your reception red...
Light up the sky with color...
...and unleash a rainbow over the altar.
Or you can use these smoky accents to make an ethereal entrance...
Exchange vows under a veil of vibrant colors...
Say "I do" amidst a dreamy backdrop...
Seal the deal with a cloudy kiss...
Wrap your first dance in a fog...
Turn your dinner reception into a sizzling desert scene...
...or make an eye-catching exit with some colorful exhaust.
It doesn't hurt these things are insanely fun to light off either!
Plus, smoke bombs aren't strictly for daytime weddings.
It turns out these things look just as cool under the cover of night.
I mean, seriously, just look at this mystical man and wife.