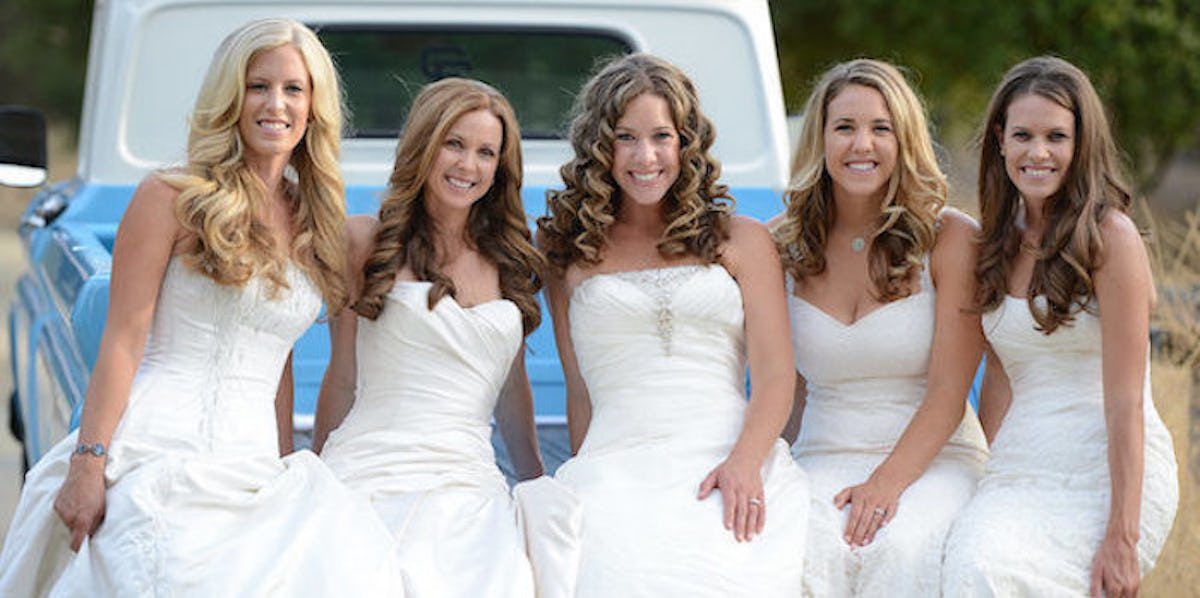 5 Sisters Thank Parents For Paying For Their Weddings In Awesome Way (Photos)
Rachel Blackwell
Between the dress, flowers, decorations and reception, getting married isn't cheap these days.
But if you thought one wedding was a bit of a financial burden, try paying for five weddings.
After sisters Lindsay, Becky, Kelly, Cassie and Jamie got married, they were looking for a special way to thank their amazing parents for helping each of them have a dream wedding.
So they decided to hire photographer Rachel Blackwell to capture a series of epic snapshots that featured all of the girls in their gorgeous wedding gowns.
So what exactly was the motivation behind this sentimental photo shoot?
The sisters told Elite Daily,
It was a fun and simple way to say 'thank you' for all of their support as we got married.
All of their delightful wedding dress photos look amazing and these pictures certainly say a thousand words, or in this case, a thousand thank yous.
Take a look at the pictures below to see their awesome photo shoot.
After Lindsay, Becky, Kelly, Cassie and Jamie all got married...
...they decided to thank their parents by having an awesome photo shoot that showed all of them together in their dresses.
The lovely ladies hired photographer Rachel Blackwell and broke out their dresses one day last July to do the shoot.
After spending the morning getting ready together, they recreated the iconic scene from "Friends"...
Before heading outside to show off their hair, makeup...
And gorgeous bridal gowns...
...while having lots of fun, of course!
The sisters also made sure to wear the same shoes they each had on during their big days.
Then they went off to frolic in the fields...
Where they posed for some more photos...
...and showed off the backs of their beautiful bridal dresses.
The women also brought framed photos from their weddings for the shoot.
Afterward, the sisters headed to Starbucks...
So they could kick off their shoes...
Grab coffee...
...and show off all of their stunning engagement rings.
The photo shoot ended up being a big success and, according to Blackwell, "The mother of the girls loved them. She ordered some big prints for her house."
Citations: This Sister Wedding Dress Shoot Is the Cutest Idea Ever (PopSugar)