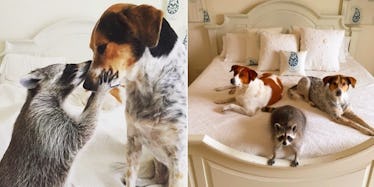 Adorable Rescued Raccoon Acts Like A Dog With Her Two Puppy BFFs (Photos)
You just never really know what you're going to find in your backyard.
One Nassau, Bahamas resident named Rosie Kemp knows all about obscure backyard discoveries. Not too long ago, she found a baby raccoon without its mother.
After sharing the discovery with her daughter Laura Young, Laura decided to adopt the raccoon and name her Pumpkin.
In a recent interview with The Dodo, Young revealed,
She instantly bonded with us and our two rescue dogs and follows me and our two dogs everywhere we go.
Check out the photos below for a closer look.
Meet Pumpkin, a rescued raccoon.
Pumpkin didn't experience the average upbringing of a wild animal.
She was rescued by Rosie Kemp.
Kemp took her into her home and helped nurse her back to good health. This was Pumpkin on day one of the rescue.
Pumpkin, who sustained minor injuries during her fall from a tree, was eventually adopted by Laura Young, Kemp's daughter.
Young, who has two rescue dogs at home, was surprised to learn Pumpkin and her two dogs, Toffee and Oreo, got along.
As a matter of fact, Pumpkin thinks she's a dog!
She thinks she is anything but a raccoon. Maybe a professional paddleboarder?
These days, Pumpkin is a huge part of the Young family.
She also spends her time following Toffee and Oreo around.
Laura told The Dodo, "She now thinks she is a dog. She is able to play and be rough with them and she respects them when they have had enough."
Not to mention, she managed to rack up over 71,000 Instagram followers. That was easy!
Who knew you could domesticate a wild raccoon and live to see another day? Look at those claws!
Fun fact: She loves watermelon.
She loves coffee twice as much.
She even bartends in her free time.
Overall, it's safe to say Pumpkin went from abandoned and helpless to loved and cared for.
Now, that's a happy ending!
Citations: Orphaned Raccoon Rescued By Family With Dogs Thinks She's A Dog, Too (Bored Panda)