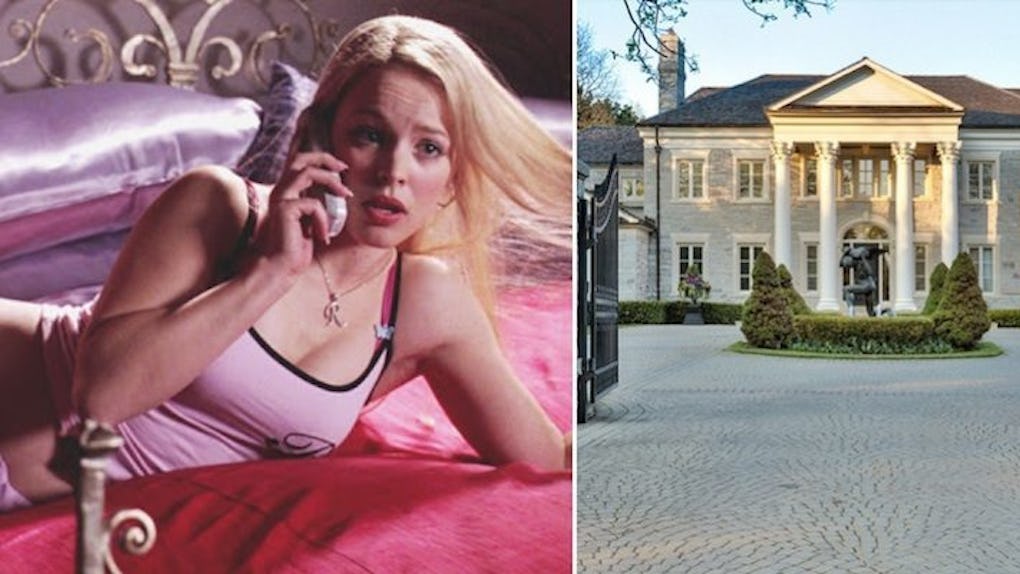 Paramount Pictures/Sotheby's Realty
You Can Buy Regina George's 'Mean Girls' Mansion For $14,800,000 (Photos)
At some point, every girl has dreamed of being Regina George (before she got hit by that bus, of course).
While you'll probably never get to be this infamous, blonde "Mean Girl," you'll be glad to know you can at least live like the leader of the Plastics since Regina's insane mansion from the movie is now up for grabs.
That's right, this badass residence located in Toronto is currently listed by Sotheby's International Realty, and it looks just as impressive in real life as it did in the movie.
Sotheby's describes this enormous 20,000-square-foot mansion as,
[A] NeoClassical Solid Stone Estate that features the perfect balance of grandeur and elegance.
However, if you want to live like a HBIC, you better get ready to pay up or invent some new kind of Toaster Strudel because this epic estate will burn a big hole in your wallet.
Take a look at the pictures below to see the incredible 11 High Point Road residence.
You can now live like your favorite Plastic from "Mean Girls."
Regina George's ridiculous 20,000-square-foot mansion is on the market for $14.8 million.
Every inch of this house is simply oozing in opulence.
There's a spacious living room where you can practice your "Milkshake" dance...
A contemporary kitchen where you can cook the meals for your all-carb diet...
...and a massive breakfast nook where you can daydream about Aaron Samuels or work on your "Burn Book."
The house also has a study complete with rich wood finishes and a marble fireplace...
A formal dining room fit for a true HBIC...
Another living room because one is never enough...
A billiard room...
12 marble bathrooms...
A cozy den...
...and another sitting room, just in case you get bored of the other three.
In addition, there are some stunning views of the foyer...
The upstairs of the insane mansion has six bedrooms...
Including Regina's master bedroom...
...and there's a marble-encrusted master bathroom that is just as over the top.
There's a huge walk-in closet perfect for storing all of your pink shirts, army pants and flip flops.
If that's not enough, the residence also has a huge finished basement...
A gorgeous pool, a carriage house...
...and a tennis court located on its two acres of pristine private property.
Shut up. This mansion is so grool.
Citations: Regina Georges Mansion Is for Sale (Cosmopolitan)