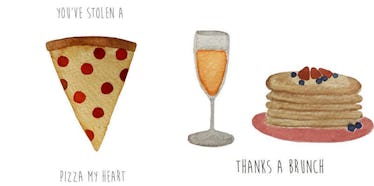 These Funny Food Cards Are Perfect For People Who Are Always Hungry
Instagram
I'm pretty sure there's nothing better than getting a handwritten note in the mail.
Just knowing someone in your life, especially if he or she lives 2,000 miles away, was thinking about you and took the time to let you know will probably make your day, if not week.
Actually, I take that first statement back. Food might be a bit better than a letter.
Rebecca Silverstein is a Washington DC-based 20-something who combined both.
She graduated from The College of William & Mary in 2014, and since then, she's been working on her "punny watercolor card business," Leafy Greetings.
Silverstein told Elite Daily,
So, I was in a bit of a rut-abaga. I has withdrawn from a post-baccalaureate program en root to medical school and moved to DC (Steve) jobless. I felt like a creative aspect was seriously missing from my life, which was chard. I started to spend more time creating handmade cards for yam-ily and friends. Before I knew it, I had a list of over one hundred puns. With a little encourage-mint and sage advice from flan-tastic people, I started printing my cards and gradually growing my business yolk-ally in Washington, DC and on-lime!
She continued,
Puns come almost frighteningly easy to me, probably because they're the basis for my sense of ewe-mor. Also since word got out, I get a steady influx of pun Snapchats and emails from friends, which helps me to never miss a beet. It's been fun to be-leaf in something and watch it grow! Life's just butter with puns.
Check out a few of Leafy Greetings' cards below.
For your best friend who just gets it
For your friend who helped you move out of your five-floor walkup
For your vegetarian significant other
For your mom, the only one who laughs at all your jokes
For your boyfriend (if you haven't said those three little words yet) on your first Valentine's Day
For your college friends after they surprise you for the best birthday weekend ever
For literally anyone who loves cheese as much as you do
For your co-worker who's been having a rough week
For your sister who shares your intense love of sweets
For all the carb-lovers in your life