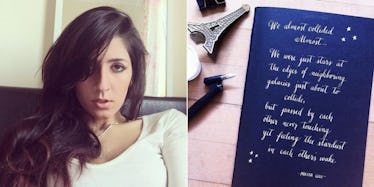 This Woman Uses Social Media To Share Her Inspiring, Amazing Poetry (Photos)
Rejection should never discourage you from going after your dreams.
If there's one person who knows this, it's Nikita Gill.
Gill is a 28-year-old Indian poet living in London who managed to collect quite a few rejection letters from traditional publishers.
But being turned down over 100 times didn't lead her to give up on writing poems or deter her from sharing her literary works on various social media platforms.
I am a feminist writer that likes to focus on empowering women through poetry… I was very [lucky] to have a progressive father who always told me I am a lioness, not to ever let anyone tell me that I am less. You'll see that image a lot in my poetry.
In fact, a lot of people seem to disagree with the opinions of those publishers and really enjoy reading her feminist poems.
Now, Gill is becoming quite the Internet sensation.
Gill created a manuscript titled "Your Soul Is a River" that features all of her lovely lyrical poems, but it has not yet been published.
If you're looking to see some of her work, check out her blog, "Meanwhile Poetry," or her Instagram.
Take a look at the posts below to read some of Gill's incredible poems.
Meet Nikita Gill.
This inspirational gal is a feminist writer and poet living in London...
...who has received her fair share of rejection letters from traditional publishers.
A total of 137 letters to be exact.
However, rejection never stopped her from sharing her poems on the Internet...
...and now Gill's popularity is soaring on social media.
Since starting her blog in 2014, Gill reportedly managed to gain 50,000 followers...
...and her fans are constantly sharing her poems on Instagram, Twitter and Pinterest.
Even celebrities like Khloé Kardashian and LeAnn Rimes have reposted her writing on Instagram.
It's not hard to see why people love Gill's work so much.
She writes all sorts of powerful thoughts...
That relate to things like the familiar agony of heartbreak...
...and she finds a way to express feelings we've all experienced but have never been able to put into words.
Gill is certainly an inspiration to all.
Citations: This Feminist Tumblr Star Will Change How You Think About Poetry (Vocativ)