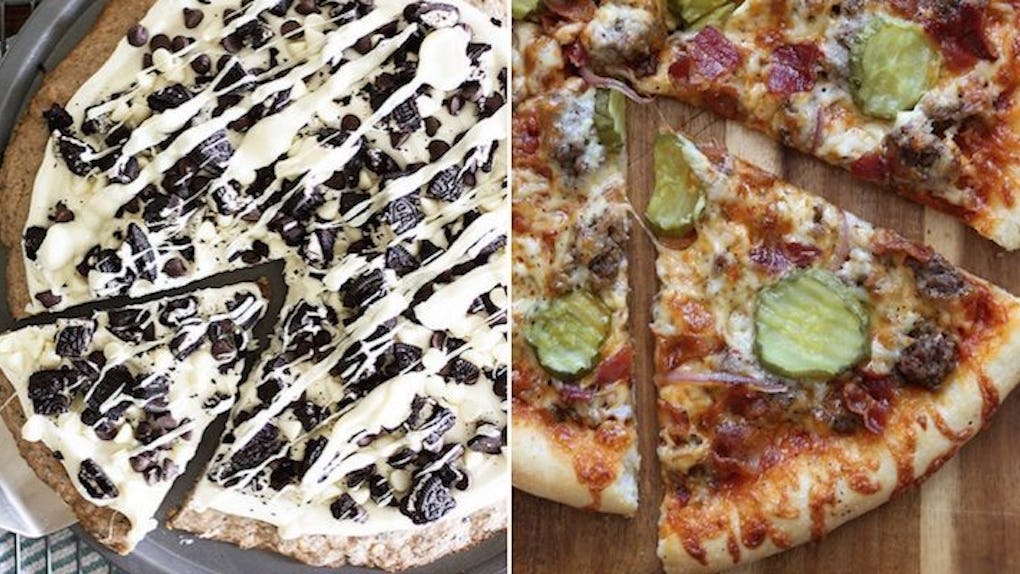 Girl Versus Dough/Baked By Rachel
30 Delicious Ways To Eat Pizza For Every Damn Meal Of The Day (Photos)
Pizza is one of those foods that occupies a special place in everyone's hungry hearts.
It's probably the greatest, not to mention tastiest, invention of all time. So if someone tells you they don't like the cheesy deliciousness of a piping hot pepperoni pizza, you should probably tell them to f*ck off and go find some new friends.
Because let's face it, you don't need that kind of negativity in your life.
If you couldn't tell, I happen to really, really love pizza and I'm pretty sure I could eat dollar slices every day for the rest of my life.
Between the doughy crust, melty cheese and endless topping options, the pizza possibilities are endless.
In fact, there's a pie out there perfect for every hour of the day whether you're looking for a morning meal, a gourmet snack or a sweet treat.
So in order to help you up your pizza intake, we set out to find a bunch of badass pizza recipes that will let you stuff your faces with all sorts of delectable slices for breakfast, lunch and dinner.
Take a look at the pictures below to see all the ways you can eat pizza for every damn meal of the day.
Ham and Egg Breakfast Pizza
Sweet Potato Breakfast Pizza
Fruity Breakfast Pizza with Granola Crust
Peanut Butter Banana Breakfast Pizza
Tater Tot Breakfast Pizza
Pepperoni Pizza Waffles
Fontina, Bacon and Spinach Breakfast Pita Pizza
Padron Pepper Margherita Pizza
Butternut Squash Kale Pizza
Chipotle Mac and Cheese Pizza
Thin Crust Bacon Cheeseburger Pizza
Shrimp Scampi Pizza
Fontina, Onion, Chorizo, Spinach and Artichoke Pizza
Bahn Mi Pizza
Homemade BBQ Chicken Pizza
Short Rib Pizza with Smoked Gouda Cream Sauce
Pineapple Pulled Pork Pizza with Bacon Jalapeños and Cilantro
Greek Pizza
Brown Butter Lobster Spinach Pizza with Bacon and Fontina
Roasted Duck Pizza with Figs and Arugula
Sweet Summer Berry Pizza
Cookies n' Cream Dessert Pizza
Chocolate Chip Cookie Dough Dessert Pizza
Apple Snickerdoodle Pizza
Nutella S'mores Brownie Pizza
Cherry Cheesecake Pizza
Oreo Fudge Brownie Pizza
Monster Cookie Pizza Pie
Chocolate Hazelnut Pizza
Peanut Butter Brownie Pizza