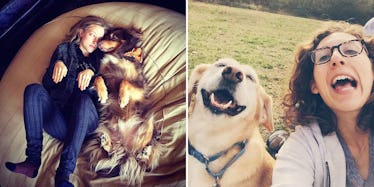 25 Hilarious Pictures Of Pets That Look Exactly Like Their Owners
Imgur
It's often true that people eventually end up looking exactly like their pets.
If you haven't yet met someone who resembles his or her furry friend down to the personalized accessories and funky hairstyles, you haven't truly lived.
For some, their pets look so similar, they're like miniature clones.
We came across a collection of photos featuring pairs of pets and owners who look almost identical.
Check them out below for a closer look!
What are the odds of having the same exact eye color as your cat when both of your eyes are two different colors?!
Believe it or not, cats watch Netflix too.
When taking selfies with your cat goes right, this is what you get.
That's the best-mustachioed pair I've ever seen.
It's in the eyes... and the hair, of course.
Say "cheese!"
Some even have matching double chins!
Yes, this is a family portrait of pancake faces.
Who knew neutering was fun for the whole family?
It looks like this guy's hair grew legs and became a dog.
A perfect example of the panting selfie.
Alright, alright. This is just getting creepy now!
When you're so like your dog that you become your dog.
You even start eating out of dog bowls.
Your hairstyles start to look way too similar.
You even buy your dog matching accessories.
You both have the same exact hobbies.
You feel the same way about kale. Yuck.
Your definition of a Sunday is your cat's definition of every day.
You both sleep the same way...
...and dream about the same things!
You hold each other through the nightmares.
You know you have each other forever.
These two will never lose each other.
The resemblance is uncanny.
Citations: Like Owner Like Pet (Bored Panda)