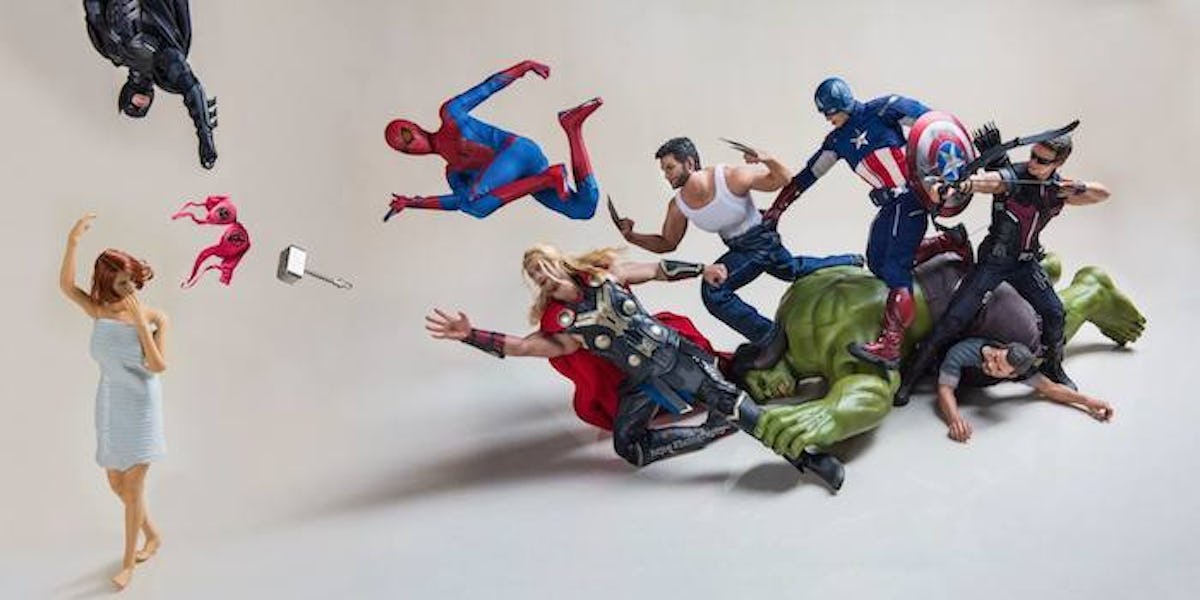 Photographer Puts Action Figures In Hilarious Real-Life Scenarios (Photos)
As children, we all loved spending hours playing with our favorite toys and arranging them into imaginative real-life scenarios.
But if you thought playing with action figures was just for kids, think again.
No matter how old you get, you're never too old to break out a box of toys from the attic and relive your childhood memories.
In his latest project, Indonesia-based photographer Edy Hardjo did just that by creating pictures to bring all of his favorite childhood action figures to life.
Using a variety of strategically positioned plastic superheroes, Hardjo puts his beloved comic book toys in human-like scenarios that really capture the struggles of daily life.
To create these whimsical scenes, Hardjo painstaking positions each action figure on a stand and plays around with the lighting and composition until he achieves the most realistic effects.
Then, after he snaps the money shot, he skillfully edits each photo to take out the stands and make the plastic figures look more lifelike by removing all of the action figure joints.
Hardjo's superhero scenes show everything from the Incredible Hulk getting his armpit hair plucked to a bunch of crime-fighting toys taking a leak in public.
All of these imaginative images are pretty hilarious and prove that when it comes to everyday life, even action figures know #thestruggleisreal.
All superheroes need a little manscaping once in a while.
Even toys understand the struggles of being sick.
Time for some super household chores.
They're peeping toys.
Impressing the ladies with some superhero shenanigans.
All of these guys want a piece of Black Widow.
Hulk knows the struggle of having huge hands.
Who needs a barber shop when you can have your big green BFF give you a trim at home.
This mouse is no match for the manly men of Marvel.
But first, let me take a super selfie.
The Hulk always smashes his hopscotch competition.
Even action figures need a lunch break.
Every crime-fighting hero knows when you gotta go, you gotta go.
It's Monday, and you're wearing a cape. You can't sit with us.
Citations: Superhero Action Figures Arranged In Humorous and Human-like Scenarios by Edy Hardjo (Whudat)