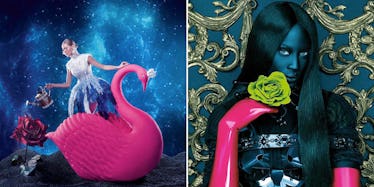 Photographer Mixes High Fashion And Zodiac Signs In Stunning Calendar (Photos)
Tejal Patni
Regardless of whether or not you believe in horoscopes, it's always interesting to read about the classic traits of your astrological sign and compare them to yourself.
Whether you're an adventurous Aries, a fiery Leo or a shy Virgo, you'll be surprised to find that your Zodiac sign can actually reveal a lot about you.
Tejal Patni is a Dubai-based photographer who certainly believes in the powers of astrology.
After having a lot of success with his fashion-forward Splash Calendar last year, he set out to create a new 2015 edition that ultimately gives his runway-ready models a makeover inspired by the stars.
That's right, this year's calendar will feature all of the Zodiac signs in a high fashion sense like you've never seen before.
In this series of incredible images, Patni mixes different fabrics and poses to blur the lines between coveted couture and the classic characteristics of each sign. The results of his creative photoshoot are nothing short of stunning.
Aquarius
Virgo
Pisces
Capricorn
Gemini
Scorpio
Libra
Aries
Taurus
Leo
Sagittarius
Cancer
Citations: Zodiac Signs Revisited By A Famous Fashion Photographer (Ufunk)