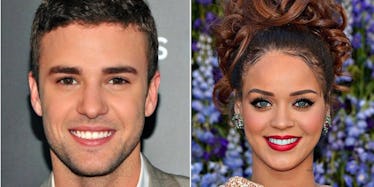 You Won't Be Able To Stop Looking At These Celebrity Face Mashups
Instagram
It's no secret celebrities are some of the best-looking people around.
But, have you ever wondered what your favorite Hollywood stars would look like if you took their best features and put them together?
Well, thanks to one photoshop mastermind, now we all know.
Instagram user Gesichermix created an amazing collection of simply mesmerizing celebrity face mashups.
Now, I know what you're thinking. Yes, this sort of thing was done many times before.
But, I think I can safely say no one ever did it as well as this photoshop wiz. Let's face it, these Hollywood hybrids are unbelievably flawless.
Seriously, the combo of Justin Timberlake's and Justin Bieber's blessed faces will turn you into a Belieber and make you cry a river of joy.
Take a look at the pictures below to see these awesome celeb mashups.
Justin Timberlake and Justin Bieber
Taylor Swift and Emma Stone
Sean Penn and Leonardo DiCaprio
Katy Perry and Rihanna
Pharrell Williams and Channing Tatum
Donald Trump and Hillary Clinton
Paris Hilton and Kim Kardashian West
Russell Brand and Emma Watson
Natalie Portman and Scarlett Johansson
Gary Oldman and Ryan Gosling
Claire Danes and Jennifer Lawrence
Charlie Sheen and Ashton Kutcher
Jennifer Lopez and Halle Berry
Bono and Ed Sheeran
Beyoncé and Oprah Winfrey