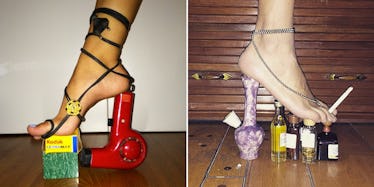 People Are Using Random Objects To Create Imaginative High Heels (Photos)
Instagram
If you follow a lot of fashion outlets on Instagram, chances are by now, you've seen a #HeelConcept post.
If not, allow me to explain: The social media trend focuses on photos of arched, bare feet perched atop various objects in descending order, creating the illusion that said objects are makeshift "heels" for the bare foot.
The objects aren't supposed to be fashion-related -- the weirder, the better -- and interestingly, the featured foot is usually a male's.
You're probably thinking, "What the actual f*ck?," and that's okay -- I was too, when I first saw the silly snaps.
It's more than just a goofy photo, though: The trend is actually a sort of ongoing art project masterminded by artist Misty Pollen, who wanted to find a way to showcase "personal adornment through the logic of social media."
Since its inception, the #HeelConcept tag has garnered over 650 posts from creative types, fashion enthusiasts and those who will try anything once. And why not? It's a fun way to showcase your individuality and creative vision, and by participating, you're helping to grow Pollen's vision.
We say, break out those props and get snapping -- all are welcome.
Check out some of the photos from the trending hashtag, below.
Rocking it:
Party time:
Seriously hot:
Toy story:
Well made (up):
Chanel concept:
H 2 Oh:
That's a wrap:
Tinsel toes:
Social net-work:
Pastel-lettos:
Dunkin Dos:
On-air pair:
Stay glassy:
Apple of my...:
Platformed:
Citations: Heel Concept Proves You Can Make Shoes Out Of Literally Anything (Refinery 29), This New Instagram Trend Has People Creating The High Heels Of Their Dreams (Buzzfeed)