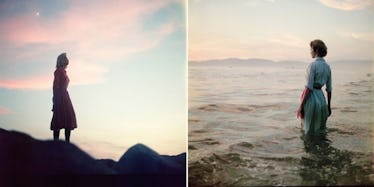 People Are Trying To Find The Women On These Mysterious Vintage Photos
If there's one thing people love, it's a mystery.
Recently, Meagan Abell, a Richmond-based photographer, was sifting through some items in a thrift shop when she stumbled across a collection of vintage image negatives featuring models staring off into the ocean.
Abell was so moved by these delicate, dreamlike photos, she just had to know more about them.
So, she did what any sensible person would do in this day and age: turn to the almighty Internet. She asked for help by challenging the Web to #FindTheGirlsOnTheNegatives.
Abell told ELLE,
I figured sharing it across social media would be the quickest way to find someone who would have information on them, because the store owner had no idea where they came from.
But why exactly does Abell wants to gain insight on these lovely ladies?
Aside from wanting to credit the photographer who captured these gorgeous gals, Abell is just plain curious about these images.
She explained,
I'm dying to find out the story behind these images. Especially since there are so many possibilities. It's killing me not to at least know the girls' names!​
Take a look at the photos below to see the mysterious "girls on the negatives."
Meagan Abell is a Richmond photographer who loves a good mystery just as much as the next person.
That's precisely why she became insanely curious when she found a collection of vintage image negatives at a thrift shop.
Abell was so taken by the captivating models in these dreamy frames, she just had to find out more.
So, she elicited the help of others through social media by creating the #FindTheGirlsOnTheNegatives challenge.
It didn't take long for the Internet to start working on this picture puzzle.
There are over 19,000 shares on her Facebook post, and the media is also taking an interest in her mission to uncover the identities of these mysterious maidens.
In fact, she's already made some progress. She says, "We believe the photos were taken in the late '50s by a professional photographer, potentially for a magazine cover—we're thinking somewhere on the California coast based on the mountain lines in the background."
With a lot of help, Abell now believes she's pinpointed Dockweiler Beach in Los Angeles as the location where these photos were snapped.
She said, "If you had told me before all of this it would end up being shared all over the world, I wouldn't have believed it. I thought maybe a couple hundred shares perhaps, but it turns out everyone just loves a good mystery."
With the way things have been going, it's only a matter of time before Abell finally finds the "girls on the negatives" and cracks this case once and for all!
Okay so here's the lowdown. I found 4 sets of medium format negatives while I was thrift shop hunting a few weeks ago.... Posted by Meagan 'Irene' Abell on Wednesday, July 29, 2015
Citations: Why The Internet Is Trying To Find The Girls In These Haunting Vintage Photos (ELLE)