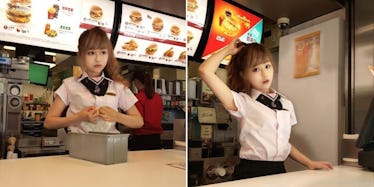 People Line Up At A McDonald's In Taiwan To See This Beautiful Cashier
Lately, lots of people have reportedly been lining up at McDonald's in the Da'an District of Taipei City.
However, they aren't looking to score Happy Meals. They're simply trying to get glimpses of something you can't find on the Dollar Menu: the restaurant's smoking hot cashier Wei Han Xu.
Wei Han Xu, or Weiwei, recently gained social media stardom after some candid snapshots captured by one smitten customer, RainDog, went viral.
Now, the Internet is going absolutely insane over her doll-like appearance, and people just can't get enough of Weiwei, who was reportedly named the "McDonald's Goddess."
But it turns out this cute cashier is no stranger to the camera, and she has an Instagram account filled with all sorts of gorgeous photos and impressive selfies.
Take a look at the photos below to see the Taiwanese "McDonald's Goddess."
Meet Wei Han Xu, aka Weiwei.
Weiwei is reportedly a college student who has worked part-time at a McDonald's in Taiwan for the past five years.
However, this gorgeous woman recently became a social media sensation...
...after a customer posted some candid shots of Weiwei to a blog.
Thanks to Weiwei's doll-like appearance, the photos quickly went viral.
Now, the Internet is losing its mind over Weiwei, and lots of people are lining up to get glimpses of the "McDonald's Goddess" behind the counter.
If her normal get-up wasn't enough to make you fall in love with Weiwei, you'll be glad to know she also switches things up once in a while by sporting a pink maid's outfit to work.
When she's not breaking hearts and taking orders, you can find her in front of other cameras; she scored a couple spots on television game shows as a result of her Internet fame.
Watch out, Ronald. This lovely lady might just be the next face of McDonald's.
Citations: Men Are Flocking To A McDonald's In Taiwan To Ogle A Female Employee (Mashable)