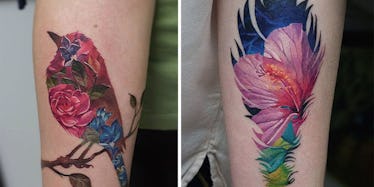 People Are Getting Double Exposure Tattoos And They're Amazing
We've all seen our fair share of impressive tattoos.
From skin decked out in whimsical watercolor designs and pretty geometric patterns to tiny tattoos that are cute AF, the tattoo possibilities are pretty much endless.
If you're in the market for a little ink, but are having a hard time choosing between your favorite designs, you're in luck. We just came across a new tattoo trend that will give your double the bang for your body art by letting you kill two different designs with one needle.
Behold, double exposure tattoos.
If you haven't heard of these eye catching tattoos before, let me fill you in.
This tattoo technique takes the same basic ideas used in multiple exposure photography and applies it to your skin.
That's right; double exposure tattoos transform boring old tats into extraordinary piece of artwork by superimposing several images to create a single tattoo that is simply stunning to say the least.
While this method has been used in photography for some time now, it is just starting to gain traction in the body art scene, and it's not hard to see why people are loving these delightful double exposed designs.
Check out the pictures below to see these some of these amazing tattoos.
If you've been searching for a tattoo design...
That will make you do a double take, look no further.
We just came across a new tattoo technique...
Called double exposure tattoos.
These tattoos take the same idea used in double exposure photography...
And applies it to your skin by superimposing several images...
Into one seriously dreamy tattoo design.
So far we've seen everything from beautiful bugs filled with flowers...
And star-studded stags...
To ribbons filled with radiant designs...
Little birds mixed with brilliant blooms...
And feathers filled with fabulous flower petals...
And garden filled hearts that are guaranteed to make you fall in love with this double tat technique.
Citations: Double Exposure Tattoos by Polish Artist Andrey Lukovnikov (Bored Panda)