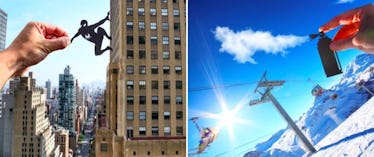 Photographer Travels The World Using Paper Cutouts In The Most Unique Ways
Rich McCor
Everyone sees the world around them differently.
Remember when we introduced you to Rich McCor a while back?
You know, that photographer from the UK who brings the world to life with a variety of paper cutouts?
Well, last time we caught up with McCor, he was running around London with a bunch of Disney character cutouts and using his keen eye to turn ordinary sights into magical fairy tale scenes.
If you thought all of his dreamy Disney photos were pretty cool, you'll be glad to know that McCor hasn't showed any signs of slowing down.
That's right. It turns out McCor has been traveling across the globe with a whole new slew of paper silhouettes since then and he's been using his imaginative mind to capture whimsical scenes in every city along the way.
McCor has been posting the latest photos from his paper cutouts project on his Instagram account, paperboyo, and if one thing is for sure, all of his delightful photos will definitely inspire you to look at your surroundings with a whole new perspective.
Check out the pictures below to see his latest cutout creations.
Rich McCor isn't your average photographer from the UK.
McCor tends to see the world a bit differently than most people...
And constantly uses his insane imagination...
Plus a variety of strategically placed paper cut outs...
To turn the ordinary sights of everyday life...
 ...into all sorts of extraordinary scenes.
 So far we've seen him bring buildings to life in NYC...
 With some gravity-defying superhero silhouettes...
 Transform the buildings of Hong Kong into makeshift skate parks...
 Capture picture-perfect shots in the Grand Canyon...
...and use some glowing jellyfish to add a groovy element to his Instagram uploads.
 Whether McCor is using his cutouts to paint the town white...
 Soaring his paper planes over St. Paul's...
Or simply using his cutouts to conquer mountains...
...McCor proves that all it takes to change the world around you is is some paper, a pair of scissors and a keen eye.