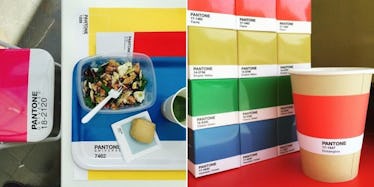 This Color-Coordinated Cafe Is Every Instagrammer's Dream Come True (Photos)
I tend to be a bit of a neat freak when it comes to organizing things according to colors.
I'm not sure what it is, but there's something oddly satisfying about seeing objects of the exact same shades placed side by side.
If you're one of those people who prefers every aspect of your life to be coordinated, I have some good news for you. There is now a Pantone-themed pop-up cafe that is completely color-coordinated.
For those of you who aren't familiar with Pantone, it's basically a standardized system graphic artists, among others, use to identify colors.
Pantone Cafe is pretty much a dream come true for every perfectionist (and Instagrammer) out there since everything from the decor to the food revolves around the Pantone color index.
This place even pairs its food with a specific Pantone shade, and if that's not enough for you, every item is served in the same color packaging.
Behold: Pantone Cafe.
Take a look around, and it's not hard to see this place is perfectly color-coordinated.
Everything corresponds to a Pantone color...
From the tables and chairs...
And the food trays...
...to the cafe's menu.
The restaurant even matches the food...
...and serves it in matching packaging.
You can grab a blue tray and load it up with perfectly matching drinks...
...or mix and match your lunch with a few playful shades.
Plus, you can never go wrong with an eclair wrapped in its corresponding Pantone color.
If only everything in life could match as well as this cute little cafe.
Citations: This Is Possibly The Most Colour Coordinated Cafe Ever (Metro)