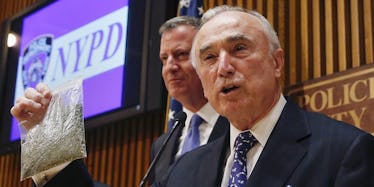 NYC's Police Commissioner Had Some Choice Words About Cannabis Legalization
REUTERS
New York City Police Commissioner Bill Bratton had some choice words about cannabis legalization in an interview with host John Catsimatidis on AM 970's Cats Roundtable radio show earlier this week.
After some general conversation about crime rates in the United States and locally, Catsimatidis sparks the drug dialogue with news of a recent heroin bust and rising overdose statistics.
Bratton says,
Interestingly enough, here, however. in New York City, most of the violence we see, violence around drug trafficking, is involving marijuana. And I have to scratch my head as we're seeing many states wanting to legalize marijuana, and liberalization of policies.
Morgan Fox of the Marijuana Policy Project told ThinkProgress that Bratton's claims are "extremely dubious," and would be highly dependent on how "involving marijuana" is defined. Fox continues:
It seems to me that that statement could only be true if you just count the mere presence of marijuana," he said. "The mere presence of a small amount of marijuana at a crime scene or on the person of someone involved in a violent crime does not mean that marijuana was involved in or the motivation for that crime.
Reason.com's Jacob Sullum writes:
That has to count as one of the most clueless statements on drug policy by a prominent public figure since Hillary Clinton declared that drugs are too profitable to be legalized. Like Clinton, NYC police chief Bratton is presenting an argument for legalization as an argument against it. Just as Clinton does not seem to understand that prohibition enriches criminals by making drugs artificially expensive and dropping the business into their laps, Bratton does not seem to understand that marijuana-related violence in New York City is a predictable product of the black market.
It's not the first time Bratton has blamed marijuana for an uptick in crime. In 2015, he said,
The seemingly innocent drug that's been legalized around the country. In this city, people are killing each other over marijuana more so than anything that we had to deal with [in the] '80s and '90s with heroin and cocaine. … In some instances, it's a causal factor. But it's an influence in almost everything that we do here.
And let's not forget when Bratton held up a bag of oregano to demonstrate what 25 grams of marijuana looked like at a news conference with Mayor Bill de Blasio as they announced changes to limit marijuana arrests. After that policy change, the number of arrests and summonses for small-time pot possession quickly plummeted.
Too bad for Bratton; the tides are shifting around him. New York was one of the first states to decriminalize small amounts of the substance in 1977, and the state's medical marijuana program officially launched in January. So it appears it's only a matter of time before the state goes fully recreational.
Listen to the full interview on The Cats Roundtable with Bratton here.
This post was originally written by Katie Shapiro for The Cannabist.
Citations: NYC police commish Bill Bratton dispenses some confusing cannabis logic (The Cannabist)