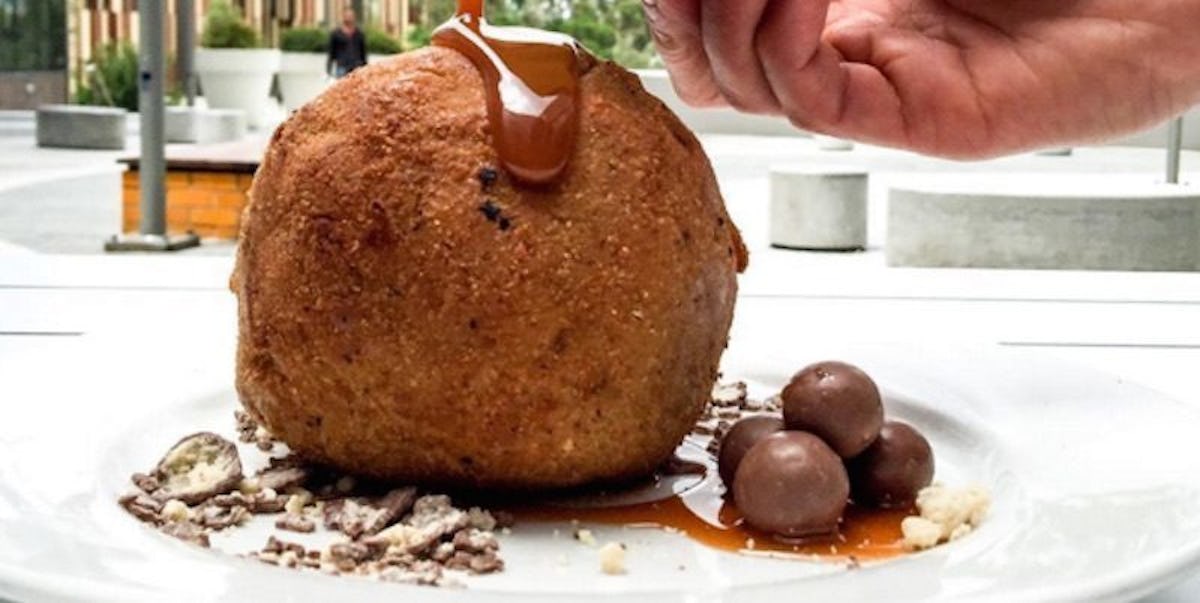 This Giant Ball Of Nutella Fried Ice Cream Is The Stuff Of Your Dreams
Is there anything better than Nutella? Chocolatey, nutty deliciousness — it's the ultimate junk food.
Or, it was, anyway. Until the pastry chefs at Sydney cafe Piccolo Me invented the Fried Maltella: A deep-fried ball of Nutella ice cream, surrounded by a malted-candy crust, and topped with salted caramel sauce. Oy.
The dessert, which is easily the size of a bowling ball, is being touted as the "world's largest Nutella fried ice cream."
Piccolo Me co-founder Roy El Hachem boasts,
We were one of the first cafés to ride the Nutella wave, but now it's everywhere — anything you can put it on, you put it on.
Unfortunately, the Fried Maltella is only available in Sydney, and only for a week (starting January 25). If you can't make it Down Under by then, don't worry: The café menu also boasts delicious options like the "Nutellagato" (an affogato with Nutella ice cream, nuts, and chocolate flakes) and the aptly-titled "Nutella Bomb," a hot chocolate-Nutella-coffee concoction.
Yeah, peace, USA. I'm out.
Citations: Introducing the Fried Maltella a giant deep fried ball of Nutella ice cream topped with Maltesers and caramel sauce (Metro)