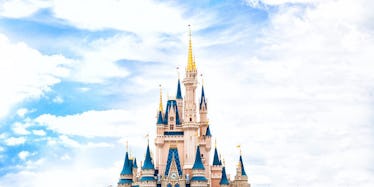 There Are 4 New Places To Get Drunk At Disney World, So Christmas Came Early
Thomas Kelley
Disney World bills itself as "the most magical place on Earth," but Magic Kingdom has always been missing a little something to make that promise 100 percent accurate: alcohol.
Yes, you can bravely attempt to drink around the world in EPCOT, by starting off with tequila shots in Mexico and chugging beers in Germany before ending up 13 drinks deep in Canada, where you will inevitably drunkenly buy a coonskin hat.
And yes, you can grab a margarita at your resort after you hit up Magic Kingdom, but this will be after enduring hours of baking under the hot Florida sun while screaming, sticky-fingered children push you — aka way, way too late.
Luckily, Disney World has heard our desperate pleas (no, really, according to Disney, numerous guests begged for this) and has expanded its options of alcoholic beverages available in Magic Kingdom.
Apparently, the original lack of alcohol was because Walt Disney was super against serving it in the parks, fearing people would become overly intoxicated messes instead of enjoying the day with their family.
Hmm. Fair point.
To avoid any public drunken meltdowns, there will only be beer and wine served — and no to-go options.
However, the places will serve drinks that properly suit their theme, because this is Disney and they want even our drunk eating to be Instagram-worthy down to the detail.
Here's where you can go in Magic Kingdom when you need a glass (or realistically, a whole bottle) of wine ASAP:
Tony's Town Square Restaurant
This Italian restaurant is located on Main Street.
To fit the theme, it'll serve a selection of Italian beers and wines, so it's the perfect place to bring your dad who's spent way too much money on this vacation and just needs some bread and a glass of Chianti, dammit.
Liberty Tree Tavern
Liberty Tree Tavern on World Drive is styled after a colonial-style inn, but with more hygiene and Mickey Mouse memorabilia.
It'll be adding domestic beers, wine and ciders to its American fare menu, so the tavern will finally live up to its inspiration.
Jungle Navigation Co. Ltd. Skipper Canteen
This Adventureland restaurant on Seven Seas Drive is supposed be like a jungle rest stop for travelers.
That being said, it'll focus more on global beers and wines to fit in with the exotic decor.
Cinderella's Royal Table
This is basically the fanciest restaurant in the park, and it often hosts special occasions. Check it out on Instagram — it's literally just 'gram after 'gram of people proposing.
Naturally, this location on W. Monorail Way serves champagne and sparkling wine to fit in with the whole princess thing.
So toss out your Mickey-Mouse-shaped flask, guys!
Alcohol is finally readily available in the park for every exhausted, overwhelmed visitor. We can cheers to that.
Citations: The Orlando Sentinel, Cosmopolitan