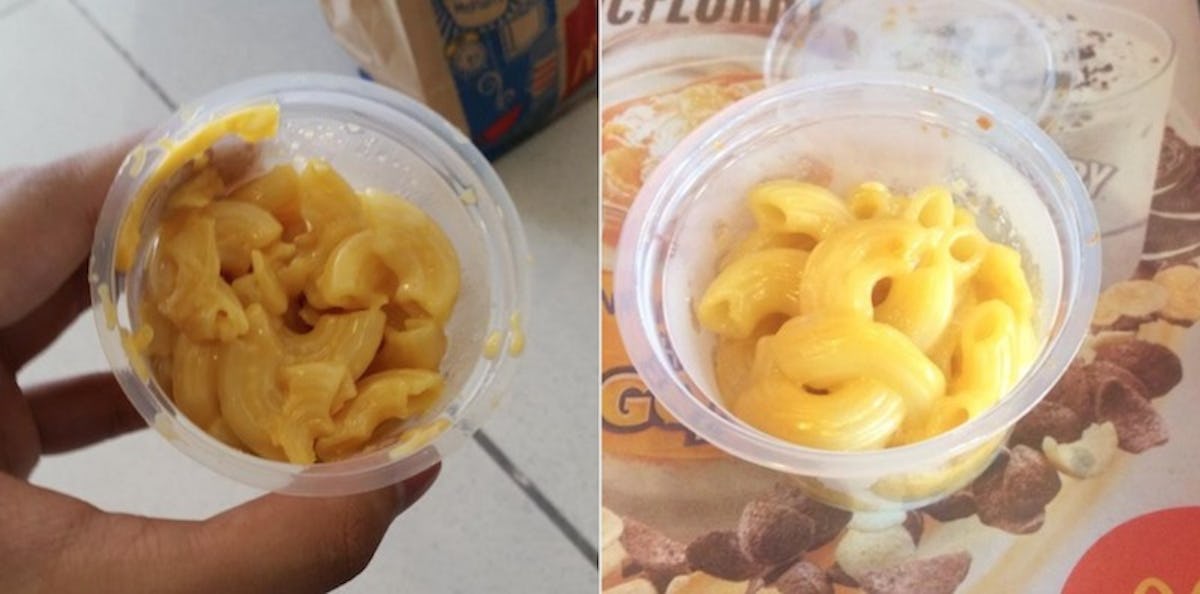 This New Item In McDonald's Happy Meals Is What Dreams Are Made Of (Photos)
Twitter
McDonald's has been slaying the fast food scene lately with the debut of all sorts of new, delicious snacks.
If you were excited when Mickey D's added truffle fries and mozzarella sticks to its menu, you might want to brace yourself.
Happy Meals are about to get a whole lot happier, thanks to the fast food chain's latest menu addition: macaroni and cheese.
That's right; rumors suggest customers can ditch the traditional side of fries in a Happy Meal for a badass cup of melty mac and cheese to go with their burger or chicken nuggets.
For big kids who have grown out of the Happy Meal go-to, the mac and cheese is also available à la carte for $1.75 a pop.
I know, what a time to be alive!
Several fast-food-goers have spotted the mac and cheese at a McDonald's franchise in Cleveland, Ohio, according to Brand Eating.
Although it's being tested for a limited time at select locations, we can't be certain the tasty treat will make its way to other Golden Arches across the nation.
But the news is causing a lot of buzz on social media, as people are obviously losing their sh*t over the prospect of scoring some McDonald's mac and cheese.
Take a look at the tweets below to see what people are saying about the new menu item.
Your McDonald's Happy Meal is about to make you even happier...
Oh, Dear, Lord. McDonald's has started testing Mac & cheese at some U.S. locations. pic.twitter.com/GcBKUkUlAc — Andy Bowers (@evilpez4) December 19, 2015
Thanks to its newest menu addition...
@ProducerCoop @GooseGyorko @bradhowe07 @joshcopen Lunch Bunch; #McDonalds testing #macandcheese #INorOUT pic.twitter.com/YpIfN6mDs4 — Dave Weekley (@weekley) December 18, 2015
A delicious side of melty mac and cheese!
Since when does McDonalds sell Mac and cheese — Jade Rush (@Rush_in_the_cat) October 17, 2015
The cups of mac and cheese are being tested at a McDonald's in Cleveland, Ohio...
Silly. One thing you can't find at @McDonalds is mac and cheese. Unless you're in Cleveland! https://t.co/vJZetO2p6g pic.twitter.com/Y4HDbWT8TC — Scott Kleinberg (@scottkleinberg) December 21, 2015
They're being offered as an alternative to fries in Happy Meals, or for $1.75 à la carte.
@965KissFM they also added a mac and cheese happy meal at @McDonalds — Stephanie (@StephanieG0315) September 1, 2015
But, unfortunately, these mac cups are pretty small.
MCDONALDS MAC AND CHEESE. ITS GOOD BUT THE SERVING IS SO NOT WHAT I EXPECTED OF. NOT WORTHY OF 39 PESOS. pic.twitter.com/7NRRVFLdth — Adam (@AintNoTruther) September 16, 2014
In fact, some people are actually pretty annoyed by their size.
$1.75 for a spoonful of Mac and cheese @McDonalds#ripoff pic.twitter.com/kILsNRKI8X — alexyevna♡† (@Skittlesnjack) December 7, 2015
But, then again, most things meant for kids' meals tend to be on the smaller side...
@emmilypensyl @McDonalds @irish_platypus it's literally a spoonful of Mac and cheese for $2 — alexyevna♡† (@Skittlesnjack) December 7, 2015
Just remember, you're still eating your burger with a side of melty, gooey mac and cheese.
ok, mcdonalds Mac and cheese was pretty alright — emily matsko (@emilymatsko) November 30, 2015
Citations: You Can Now Order Macaroni and Cheese at McDonald's (Cosmopolitan)